Wall of Love
Here's what Elif's audience had to say about how she's helped them through her content.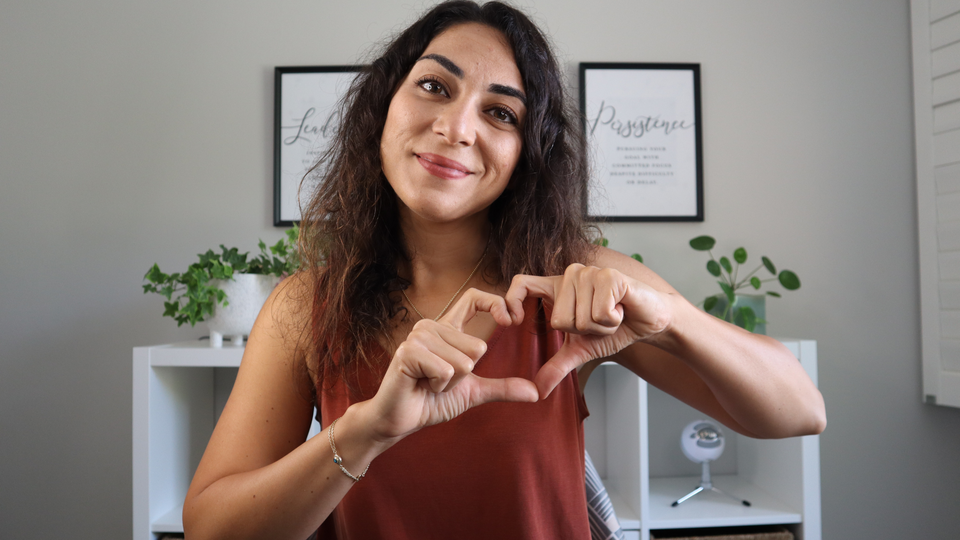 "I aced my next interview and secured the job, against 450 other applicants! After struggling to find a job during COVID lockdowns, Elif gave me very useful advice to really stand out from a digital marketing manager's perspective."
Kevin Law
After getting past the challenging process of sending applications, here's how they prepared for the job interview and nailed it! 🎯
"I signed up for your newsletter because I find your content very helpful in starting my digital marketing career path! I discovered you on YouTube because I was looking for digital marketing content and helpful tips because I was preparing for an interview for a digital marketing position. All your interview preparation videos really helped me gain confidence to ace the interview and I am so happy because after a week, I got an email that I got the part and will start next week! And now, I am binge-watching your social media audit, content strategy videos, etc to be prepared on my first day!"
Anonymous
"Elif, thank you. I was able to get the internship, now to start strategizing. Also, watched your YouTube video on Acadium and managed to get an awesome apprenticeship with an experienced digital marketer. You are such a great big help."
Cherise Baldero-Jacobs
"Hello Elif, I just want to say thank you, I watched your videos before my digital marketing specialist job interviews. I prepared for my interviews with your amazing advice and your videos give me courage for the interview. And, I got the job finally. Thank you! All my best wish with you."
Ozcan Kirtan
"Hi Elif, I just wanted to thank you for providing us with such practical knowledge on marketing. I am aspiring marketer (looking for a job) and your YT channel helped me a lot during preparation for my interview and made me think what some crucial steps may be in regards to my career."
Iga Romowska
"I spent the first day of Fall starting my first ever marketing job for my dream company after moving abroad solo for the opportunity! 100% thanks to you and all of your tips and guidance on YouTube! Sending you a massive thank you Elif!
Katie Buller

"I had an interest in marketing but being such a general field I wasn't sure where I had to go. I needed some guidance and help. I had many questions and Elif was extremely helpful in making things more clear. She helped me transition my career in a year from working as an IT technician at an accounting company to a copywriter in advertising. Would absolutely recommend her help if you need to change your career or some tips on getting a job in the industry."
Mustafa Ali, Copywriter, H4B Chelsea
"I would like to thank you a lot! I've applied on an internship in big SEO company in my country and also thanks to your advices I've got! <3"
Alicia Starzyk
"Love your content Elif! Looking for a job in Canada in marketing right now. This really helps to be around this information to prepare for interviews."
Vegas Girl
"Hello, I just got my first job in marketing today. Thank you for this!! Greetings from Czech Republic."
Oxxy
"Having my first marketing interview on Friday! Your videos really helped me find confidence to go for it!  Read Buyology in college also, great book. Thank you!"
Vegas Girl
Looking for a fresh start? Whether that looks like a career transition or just wanting to have clear sense of direction, I'm so happy about being a part of their career journey..
Here are some stories:
"Hi Elif! I really appreciate your YouTube videos as they have really helped me in my career in marketing."
Cloe Johnston
"This is SO Helpful Elif. I am about to begin my marketing degree and this really clarifies where it could take me!"
Emily Claire Daly, Student
"This is such a useful video! Thanks so much for making this. I have a much clearer sense of direction now."
Kevin Law
"This is the best video ever! Thank you so much! I am going through a 180 career transitioning into digital marketing. There are tons of videos on YouTube advice on taking courses to build your skills but not enough videos on finding an apprenticeship – with no experience."
Suki Liang
"I discovered the HubSpot Academy some months ago, after following Elif Hiz's YouTube videos. Earlier today I got my second certificate from HubSpot on Inbound Marketing. I have learnt a lot of things that I am ready to put into practice."
Patricia Cosma
"Hey Elif. I began my steps towards digital marketing by randomly landing upon that famous day in a life video..and I'm so thankful that I got you.. till today I haven't found a better content creator than you. Love love love your content.."
Sarika Sangwan
"This video is SO helpful! I'm hoping to pursue a career in technical product marketing and this video provided some incredible insight into the "behind the scenes" of this role. I really appreciate this sort of content on your channel."
Victoria Wright
"Fantastic!! As a journalist looking to switch to marketing, this information is gold for me! I thought I'd never be able to use my writing skills extensively again, but clearly I can!!
Chandrakant Mahapatra
"Hi Elif! I've been following you on YouTube for some time now and your channel has helped me grow within my marketing career tremendously. Thank you for providing such valuable content!"
Valentina Gamburd
"Your videos have helped me so much to build a career plan and navigate the beginnings of it (just graduated)! Thank you so much for sharing your experiences and knowledge in such an accessible, amazing way."
Olivia M.
"Dear Elif, I have come across your YouTube channel and I absolutely love it. Your videos are so informative and helpful for anyone who wants to build a career in marketing."
Joanna Steltmann
"You are amazing Elif! I've graduated from Genetics, did MSC in Medical Genetics, found out that it was not for me. Took some classes, started a healthy snack shop then I started learning digital marketing (Google + Hubspot), now I am involved in a project and run their inbound marketing. Love taking risks and learning from them!"
Seray Sucuoglu
"Hi Elif, I just wanted to thank you for connecting with me. I am a law graduate, and in the past, I have been really uncertain about my career path. After lots of consideration, I have found that I am excited to pursue a career in marketing. Your YouTube videos have been integral in helping me make this decision and are helping me transition greatly! I love your content and think you are brilliant!"
Keisha Chauhan, LLB Law Graduate
"Great video! I'm currently preparing to teach a university class about "Creating Digital Content" and our last section will be about content audits and competitive analysis. I just came across this video as I was pulling together curriculum plans, and I will be sure to share your video with my students! This is not only a great explanation of how to conduct a content audit, but a great example of how to leverage them for your career growth. Thank you!!"
Mallory Whitfield
"Hi! I stumbled across your Marketing videos almost a year ago when I was still deciding on my major. I just wanted to say thank you for providing such great information and advice that led me to choose marketing as my field of study. Although challenging, I do not regret it one bit. Keep doing what you're doing, you're doing a great job!
Case_022
"Thank you – excited to get more organized with these templates!! Also just wanted to let you know that your YouTube videos around marketing tips and your career path has really helped me navigate my way around in marketing and gave me perspective on what I want to do in the next few years with my career. So thank you for that – hope you're staying safe and healthy during this time :)"
Mashtura A.
"Just subscribed! I recently came across a huge contemplation about my career and where I want to end up, I tried watching so many videos that didn't connect with me. Until I saw yours! Your video honestly encouraged and relaxed me so much overall! I wrote multiple notes down watching this so I can improve on areas I'm not confident in and things to work on! I just want to say you're amazing and keep up the amazing content!! Subscribed and definitely come back to watch more videos."
Jazz Buzz
"Hi Elif! Thank you for creating this video. I came across your channel because I want to go back to school for Management and Marketing. I'm making a career change and this will be a fresh start. Do you have any suggestions on how I can market myself to a postgrad program when I have a little to no experience in Marketing. I'm eager to learn and I know I can. Any advice would be great. Thanks! Keep up with the videos, they're helpful."
Brianne Nichols
"I've been inspired by Elif Hiz's video on How to Start your Marketing Career to make a blog about some of the education that I've gained surrounding Marketing, Communication and other topics to help others."
Mudasir K.Z., Digital Marketer, Social Media Specialist
"As I'm currently looking to move abroad and work in the UK, I contacted Elif so that we could strengthen my resume and my competitiveness for the UK market. She went beyond the extra mile during our session. Not only did she take the time to go over with me all the improvements for my CV and cover letter, but she also helped me find different strategies for me to be successful in my future career. From networking strategies to certifications, I found more answers than I expected! There was not a shred of general advice. Elif does her research and collaborates with you based on your specific needs, skills, and experience. Thanks, Elif!"
Carlos Mandujano
And some general ones because I can't get enough of them 😊 There are hundreds more comments like these.
Want to experience the change yourself?
"You are like a mentor! Thank you so much for so many great videos! As a student I find all this content really valuable <3"
Sabrina Zoe Cadiz- Diaz, Student
"Hello, Elif! I follow you on YouTube and these past days I saw your post there with your LinkedIn profile. Thank you for all your videos and the tips & tricks. Keep going! Happy to have you in my network."
Patricia Cosma
"Hi, I am one of your biggest fans on youtube. I am also a marketing student who finds your video very useful and inspirational."
Soumya Zhaoui –  GCU International Marketing Student
"I am really thankful with all your content! I have been watching all your videos for like 2 months and I have learned a lot."
Arianna Perez
"I really appreciate your effort in order to share your knowledge so much. But I appreciate your kindness with your kids the most. You don't lose your temper yelling at them to sit down quietly or to go away from the camera or location where you are filming, instead of that, you smile and listen to what they are saying without losiong your focus. This is magnificent. I can feel how honest you are as you just open the camera and talk, letting everything go naturally. Thank you for being a good marketer and a good mom."
Eman Hisham
"Thank you for making this video Elif! As always, your content is top notch and full of extremely helpful takeaways. Like yourself, I've always considered video for myself/ clients but never committed to a full video strategy (thinking it will take too many resources). Excellent to hear your experience and new perspective on what to expect."
Jordana C.
"Elif! This is such a great video! We just found your channel and love it already. You have a new sub! We love how real you are and how down to earth with your content and we love to see others in the industry using their platforms to share knowledge to build others. Keep up the great work. We are a digital marketing agency out of Corbin, Kentucky. We post a weekly vlog every Friday. We hope you're doing well and staying safe! We can't wait to see more videos from you!"
The Holler
"I've been inspired by your journey as a marketer and learned a lot of digital marketing stuff from watching your videos. Thanks for creating such impactful and useful content, Elif!"
Ponchanit (Ingfai) Passorndiloklert – Marketing Campaign Associate at Zilingo
"Elif you are amazing! Thanks for sharing the knowledge, all of your videos are such a great guideline for me, thank you!"
Seray Sucuoglu
"Thank you so much for this, learned a lot that I could use to build my resume as a university student!"
Amanda Herrera
"Hello Elif! Thanks for the video, it definitely put me back on the right track. I'm currently in the self learning phase but I lose my motivation sometimes. But your video reminded me that I'm doing the right thing."
Insaf Lola
"Yessss!! This is the playbook I've been looking for. It's really hard to know industry best practises when you are self taught! Great content, thank you."
Louise C.
"Thank you for the best content on YouTube."
Sema Ozsoy
"Couldn't thank you enough for providing us with such beautiful insights"
Palak Jainb
"I just wanted to let you know I landed a marketing co op with Canadian Tire and wanted to let you know how much your class taught me and your YouTube videos! You're an amazing educator!"
Tristan Wong