The Complete Community-Based Marketing Playbook [with examples]
Is community-led growth the next product-led growth? Exploring what community-based marketing is and sharing a playbook that helped run a 4000+ member community.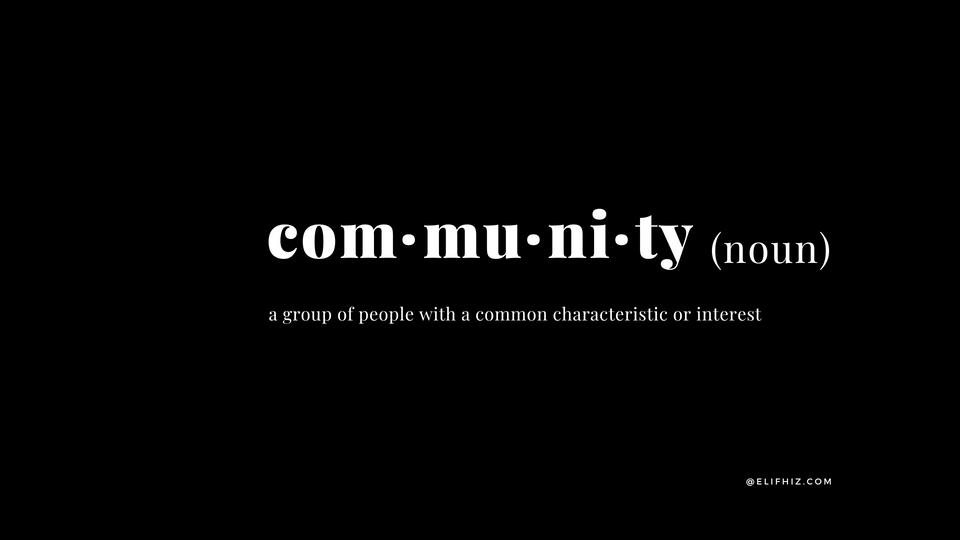 In Superside's Momentum Summit, Jasper's VP of Marketing started her presentation on community-led marketing by pointing to the question everyone's been asking:
Is community-led growth the next product-led growth?
Product-led growth is probably not going anywhere, but community-led growth is grabbing more attention by the day.  
But why are we seeing a growing interest in community based marketing all of a sudden?
I think it's part of the natural evolution of the brand-user relationship.
Brands are looking to understand and serve their users even better in an increasingly competitive market. Smart digital tools make it possible to get more insight into users and to interact with them in a more meaningful way. Brands are also looking to build more trust through their communication strategy and what better way to do this than leveraging the power of super fans who help distribute the message?
On the other hand, users seek for more than a transactional relationship with brands. They are losing trust in traditional marketing tactics such as advertisements and making more informed decisions using the variety of tools and information available to them. They look into communities and reviews as a basis of trust. Additionally, they seem to want increased support from brands, platforms to share experiences (of the products/services), a sense of belonging and a shared culture with other users of the brand.
Win-win.
First... what is community?
A group of people sharing a common characteristic or interest.
(Communities can exist and gather virtually or IRL.)
And what is community-based marketing?
In my simplest words...
Community-based marketing is a marketing strategy that facilitates an exchange of culture and experiences for a group of people who share a common interest.
This helps to build a deeper and stronger relationship between brands and users.
Now putting theory aside, why do I care about community-based marketing?
Until I fell down the web3 rabbit whole in 2021, I had no idea about community-based marketing.
I knew communities existed, but that's about it.
One of the biggest things I was mesmerized about web3 was the potential of the blockchain and the decentralization movement, but second was how marketing was changing. Web3 marketing was fully centred around communities and brands had (close to) zero power if they didn't have communities before products.
I spent months studying communities and talked to anyone I could get a hold of who was in the space before me and was running their own community of multiple thousands of people. You can watch or listen to some of those conversations and my observations here.
Then I joined a 4,000+ member community as the marketing leader and had to figure it out.
In September 2021, I joined Ninja Squad - a web3 brand with a 8,888 piece genesis NFT collection - as the Head of Marketing and Operations and led everything brand, communications and project management for nearly a year.
This was the official start of my journey into community-first marketing.
The following months was spent exploring for countless hours and experimenting with different tactics to grow and strengthen our community. Eventually, we were able to build and sustain one of the strongest trading communities with a much longer than average holder retention rate of 6-9 months.
Side note: I got so obsessed about community-based marketing and community feedback that I built a review platform for web3 to give community members a louder voice. Check it out here.
There are two key things that set the ground for a community:
People need to know each other
There needs to be ongoing shared utility
After this was settled for me, I started to research and think about what we could do for our community and the type of culture we wanted to have.
And I'm proud to say that we had one of the most dynamic and strongest communities in web3 and specifically the trading niche.
Our community-based marketing playbook [with examples]
The following tactics and examples are what we've used to design an engaging experience for an online community of 4K+ members.
1. Dedicated community managers
Community managers are crucial members of the team who lead server design, chat moderation and represent the voice of the community. They are the face of the brand for the community members and are also the bridge between the community and the internal team. They carry any highlights, needs and questions from the community and escalate issues when needed.
2. Rules, standards, expectations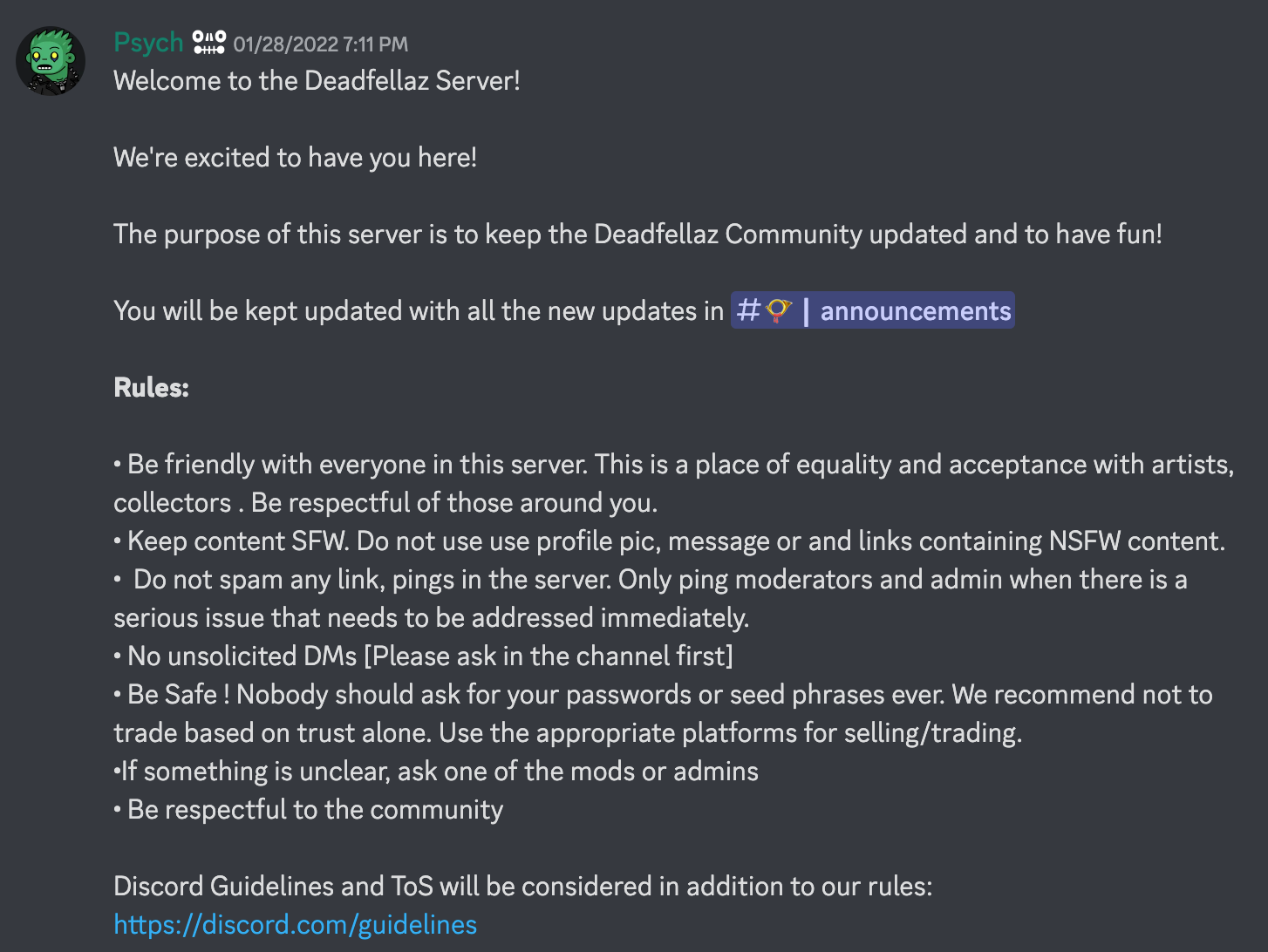 Every community needs a manual whether it comes from the brand (top-down) or from the DAO (within the community) to set the ground rules and direction.
We had our rules and official links channels from day zero for clarity. Members accept the rules as they enter the server. In cases where members would not follow the rules, they would be warned, muted or banned, depending on the severity of the situation. This is not a pleasant topic but an essential one for any community.
3. Brand ambassadors/advocates/representatives

Once we found them, we gave them roles (something like a title/tag) in our server and our community managers had regular contact through private chats. In web3 context, it's easier to reward members with digital tokens so we definitely leveraged this. They also significantly helped to raise brand awareness by making a lot of noise on social media.
4. Rewards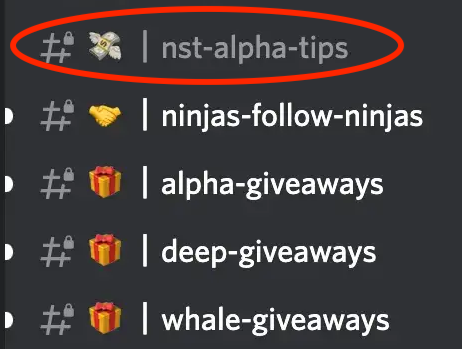 Building reward mechanisms is definitely something you want to think about. Whether in the form of tokens, physical items, perks or simply shoutouts in the community, it's an important incentive for participation and value add. At Ninja Squad, we had an $NST tipping channel where we would shoutout to members who made a significant contribution in the community and thank them for their effort with a tip.
5. Community hears first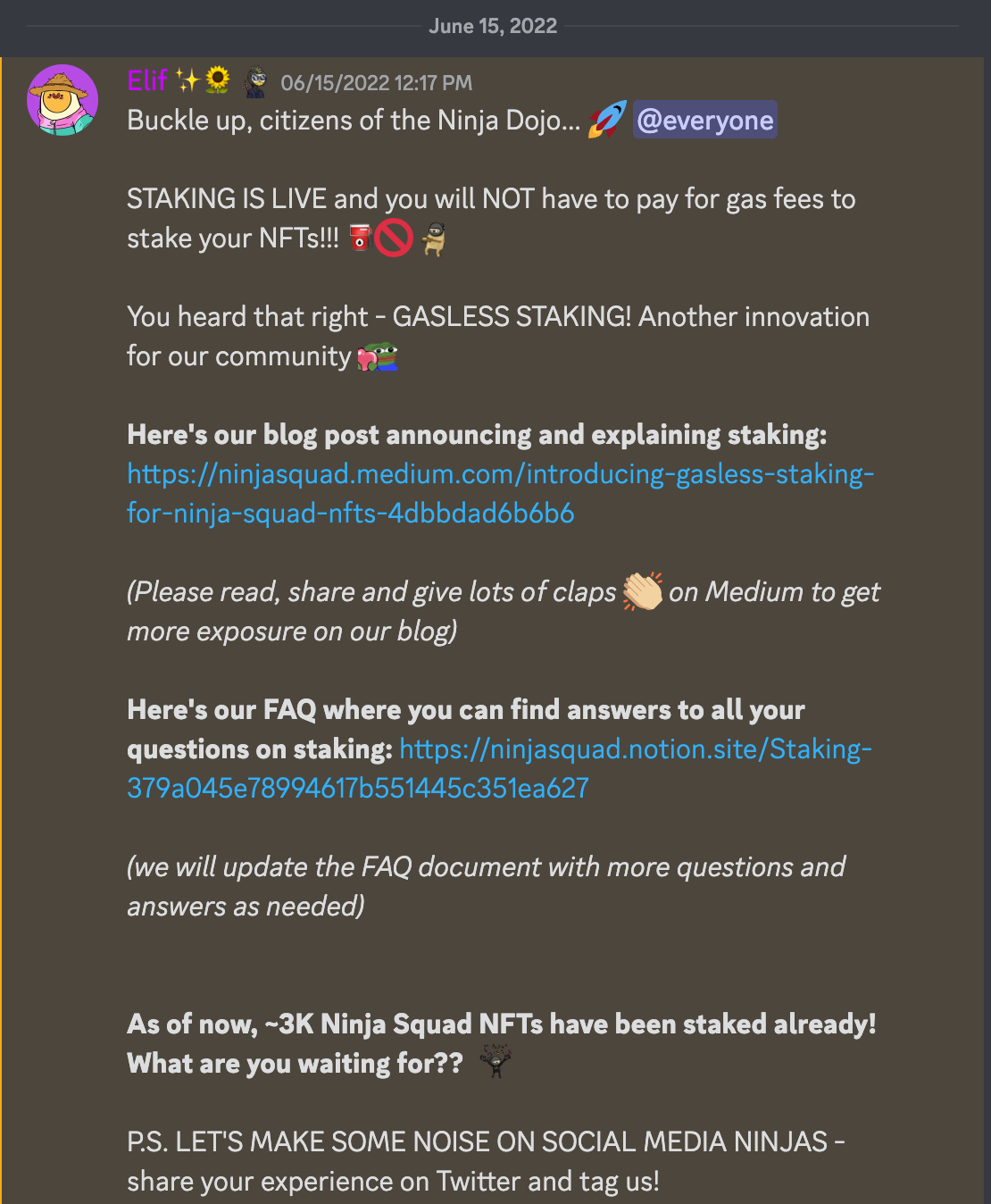 Whenever there was a new feature, product or partnership we were working on, we announced it to our community first. This alone gives a reason for people to stick around and as they receive updates before anyone else.
We provided written updates through an announcements channel, as well as video town halls which were also then published in the form of blogs on our Medium page.
6. Regular touch points and communication
Livestreams, Q&A sessions in chat or community video calls were ways how we made sure to always stay updated on how the community was feeling and how we could better support them. We also had a suggestions & feedback channel for those who weren't able to participate live but had ideas to share.
7. Virtual and IRL events
We regularly had virtual events like game nights or expert workshops, as well as IRL meetups organized by local community leaders. Definitely carries the bonds to a new level.
8. Partnerships for discounts & perks w/ external brands
This is a great perk to offer if it aligns with your brand. It's an important utility and incentive to continue being an active member in the community.
Some examples are discounts through unique links for the community, free tickets for events, priority access to features.
9. Contests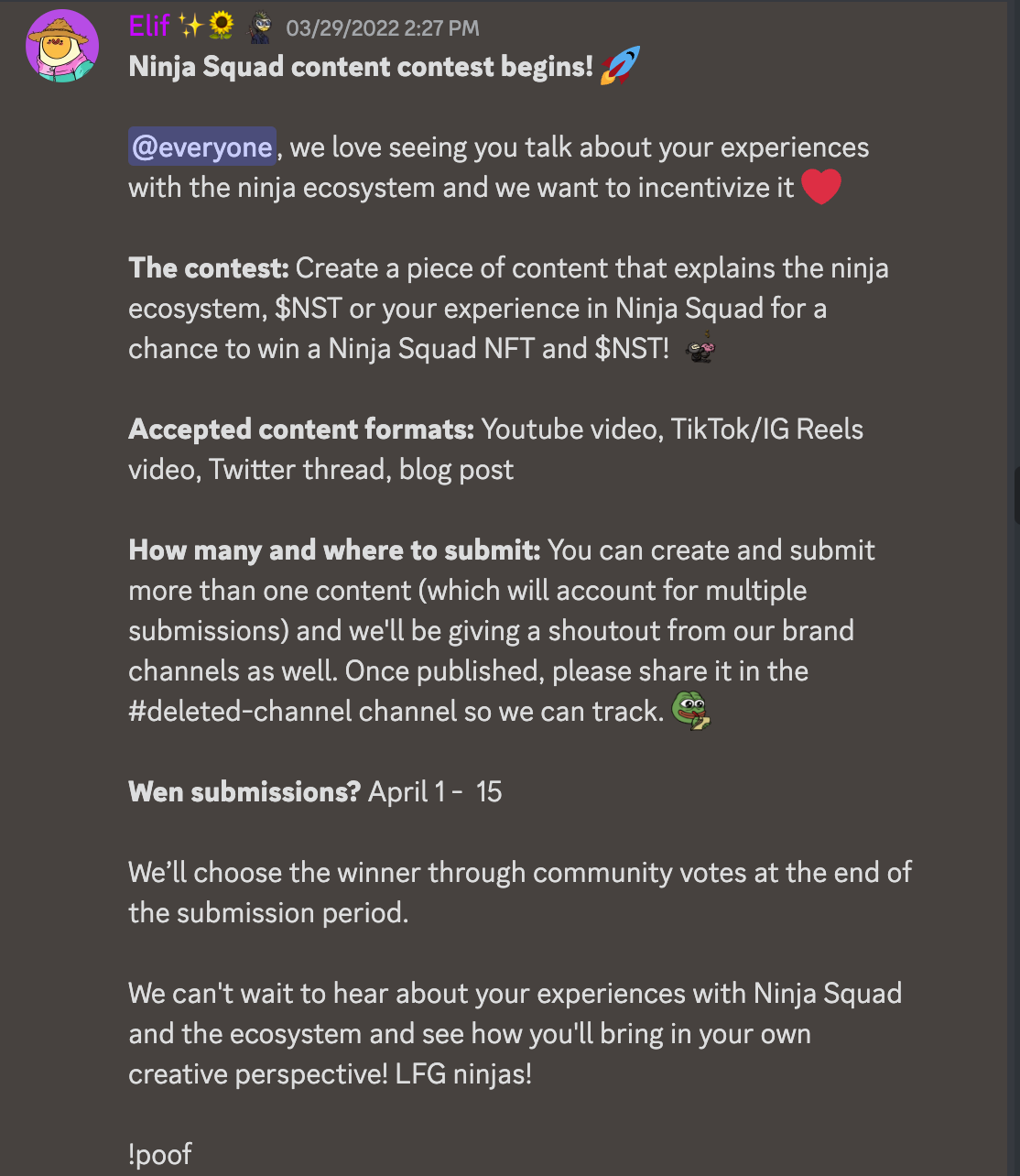 Art, meme and content contests were some of the ones we did and every time we noticed an increase in engagement, as well as an impact on the brand awareness. This was due to community members also sharing their submissions on social media and amplifying the brand on their personal channels.
10. Server design and experience (platform design)
This is a piece of the puzzle I was personally quite passionate about. I joined close to hundred other online communities to study their onboarding and welcoming process and took notes of all the best practices and my experiences. Onboarding is a key moment for a user to validate their decision of joining your community.
The onboarding journey and the first impression is greatly important for me.
I asked myself these questions:
how easy is it to find the link to join the community?
how many links need to be clicked before getting in?
how many notifications and pop-ups does one see?
what is the information we ask from the user and is it all necessary?
how difficult it is to join (scoring the difficulty level)?
Then we fixed the language we used in our onboarding messages. Goal was to make as clear and simple as possible, especially because we addressed a global audience and not everyone is going to be a native English speaker. We also made sure we guided the user to their next action instead of having them hanging without knowing what to do. This typically needs some prompts and an example. If you want the user to write an introduction of themselves, share some bullet points to guide them what they can talk about and tell them where they should post it (ie which channel).
Next action was to tag and welcome new members in the general chat channel and this is typically well received as it feels personal and shows that you notice new members.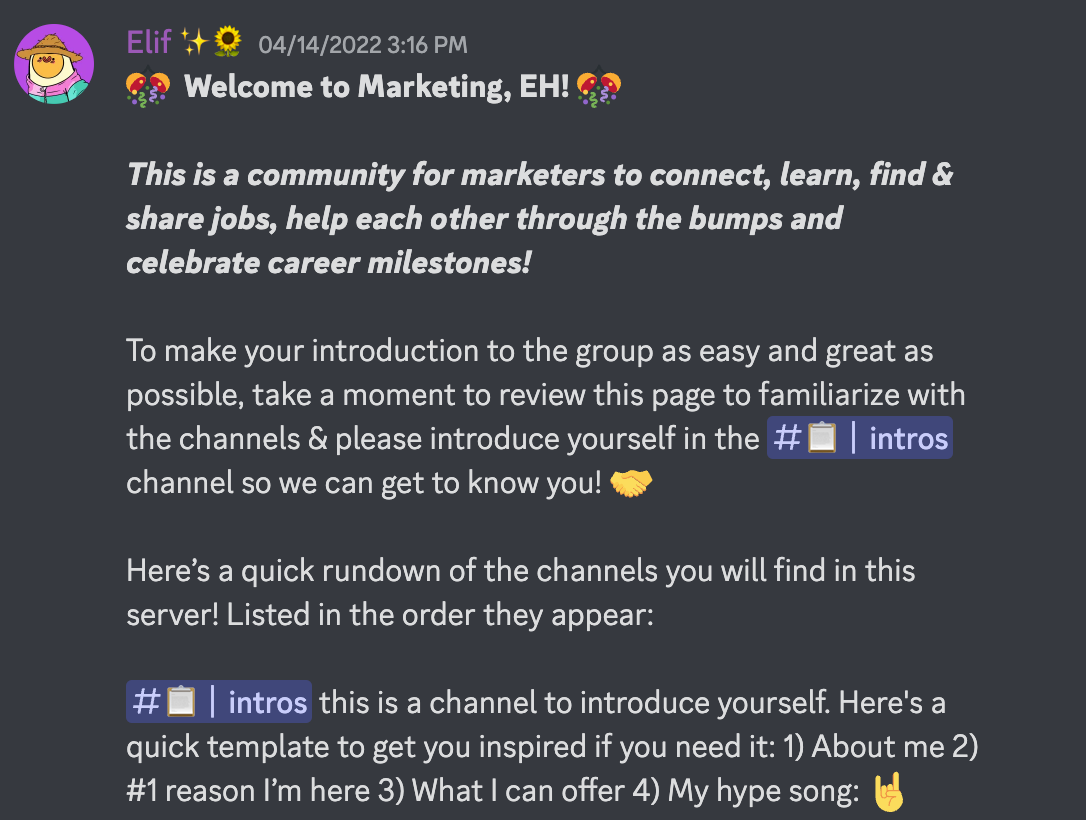 11. Channel design
Once server design is settled, channel design is the next thing to tackle. This is an ongoing exercise to do to make sure all channels are serving a purpose and are helpful or meaningful to the community.
Some things to think about are how you want to theme the channels and design for maximum engagement.
Here are a few channel examples we had:
 Channel to share wins (we were a trading community and members shared profits they would make with screenshots)
 Channels for conversations outside of the product (ie. for job opportunities, parents, sports)
 Suggestions/feedback channel
12. Referrals/rewards/affiliate system
Communities unlock a superpower in the sense that you typically have users that are power users or fans of your brand, who are there to offer and gain value.
A referral or affiliate system is a super clever and relevant tool to have within a community.
13. Merch
If your business offers a digital or intangible product or service, complementing it with physical items is a great tactic. Physical items create an additional level of connection between the brand and user and serve as a reminder in their daily life.
The pilot hat that Turkish Airlines gifted my daughter on our flight to Turkey is an item that we love very much as a family and is a great reminder of our summer vacation.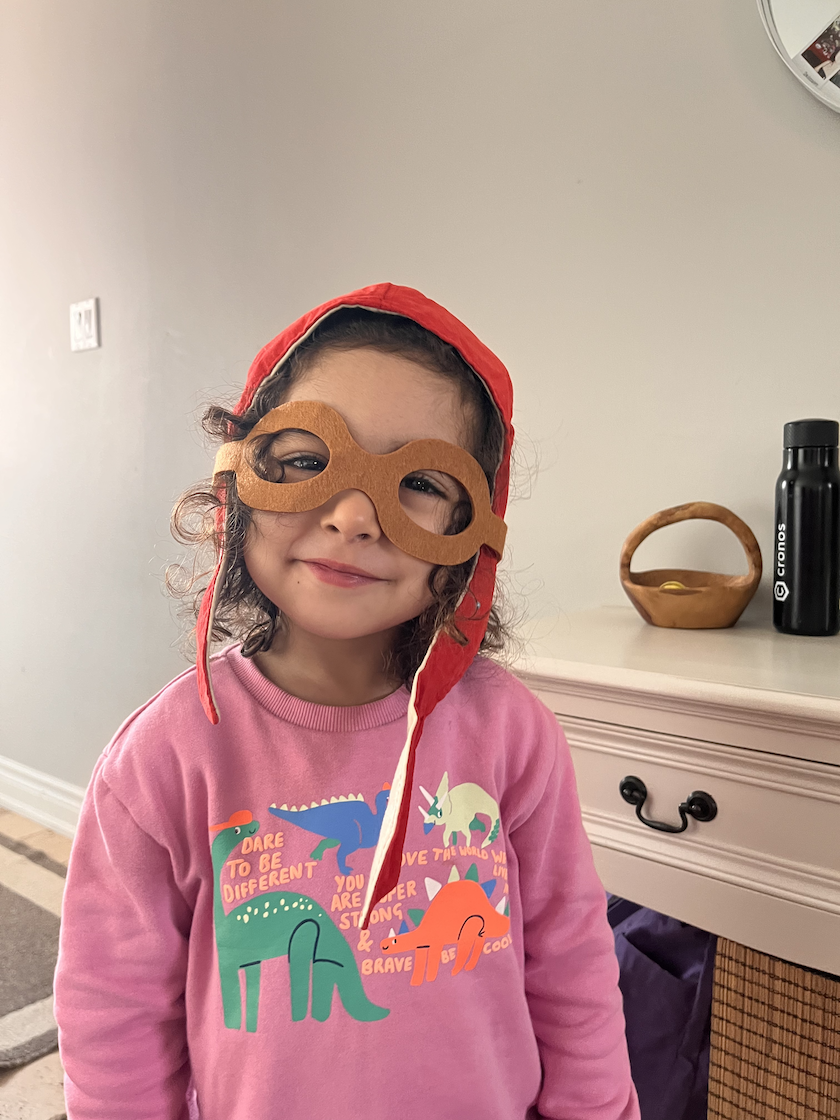 Merch is a timeless and great tool to contribute to the brand-user relationship.
Is you're unsure if you need to build a community, here's one big reason I'll leave you off with...
Having a community enables you to meet your customers on a next level and the constant communication and feedback loop helps you to build better solutions or products that solve their pain points.
For example, after listening to our community, we figured out a way to help them reach their goals and built Trader Tools which also served as an important revenue stream for the business.
Some guiding questions that are helpful to figure out what you could do for them are:
There's a lot to learn from web3 brands when it comes to community-led marketing.
In this thread, I covered four things NFT brands are doing an amazing job with that we typically don't see in web2. Definitely recommend checking it out and doing further reading on web3 communities to take inspiration.
Final thoughts
Community is vital in web3, but communities are also becoming increasingly important for web2 brands.
We're already seeing some brands leveraging community-based marketing and have built wildly strong communities that have impacted their brand awareness. Jasper, Notion, Apple and Hubspot are a few to follow.
Brands who are able to leverage community-based marketing in their strategy are sure to have deeper and longer relationships with their users, create highly relevant solutions in the longer run and have a better brand awareness.
What do you think?
---
If you enjoyed this piece and are ready to work on your own community building, you might find my community-based marketing swipe file helpful too. You can get access to it by submitting your email in the box below and I'll email the link to you. Alternatively, you can support my work and time by purchasing (access to) my Marketing Hub which is a library of templates, resources and guides I put together and regularly update.
---
3 Ways I Can Help You When You're Ready
1. Be a better marketer with the resources I created, including a kickass course to help you land your dream marketing job, templates and lists of resources to accelerate your learning.
2. Work 1:1 with me to define your career roadmap and get support for your marketing job application process.
3. Get in touch to join Superside, Integromat, Whatagraph and many others to promote your brand or business through partnered content on YouTube and other social media platforms to an audience of self-learner marketers!