Top Marketing Certifications Worth Your Time and Money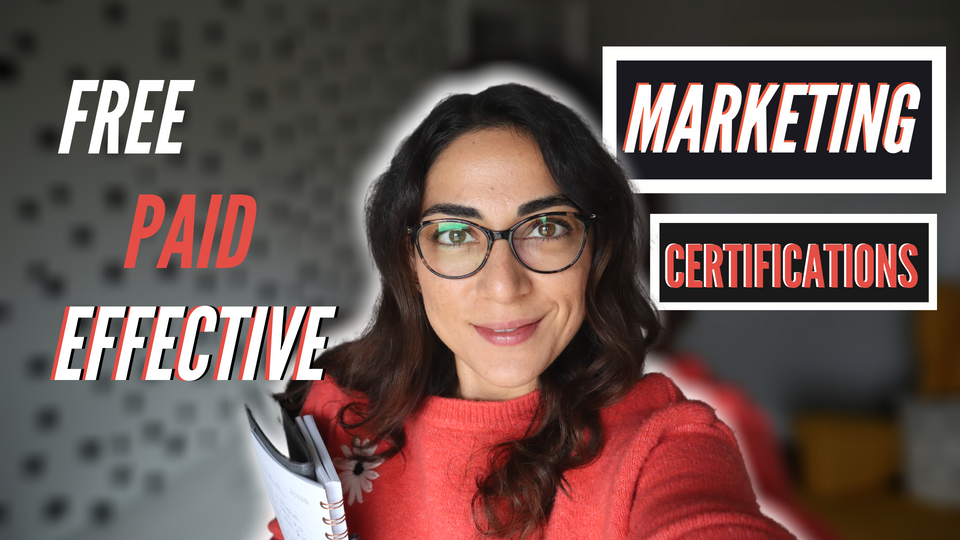 Interested in a career in digital marketing?
Not sure which digital marketing certificate is worth your time and money?
There are a lot of fancy courses and certifications for marketing out there and it can be overwhelming to decide which one is worth your investment of your time and money.
When some of them cost a fortune and some are free, it's even more difficult to decide what to do.
But how do you know which one is right fit for you and will really be valuable to your career and goals?
In this blog, I'll be going through different institutions and platforms offering DM courses and certifications (free and paid), and tips to help you decide whether they're worth your time and money.
As always, if you'd prefer to watch or listen to me, feel free to hit play and pause as needed ⬇️
Top Marketing Certifications (Free and Paid) Worth Your Time & Money – Improve your marketing skills
Certification and Courses offered by Colleges and Universities – PAID
Many colleges and universities nowadays offer programs in marketing.
While some offer programs that cover the broad range of digital marketing, many offer focused specializations within digital marketing like social media marketing, content marketing, SEO, PPC, etc.
Depending on the institution and credentials you have, you could opt to enrol in undergraduate and graduate level degrees in DM or look into continuing education programs and get a diploma or graduate certificate.
Budget
In terms of budget, degrees from colleges and universities tend to be on the higher end of the spectrum because they're often longer and what are called "officially designate degrees" – which give you extensive education.
However, not all degrees are built equally and prices vary depending on the institution and factors like whether you're a local or international student, have financial aid, and the number of courses or semesters you're enrolled in.
How do I know if a college or university program is worth my time and money?
1. Start with the website
If you're interested in pursuing a college or university degree, I would start by looking at the institution's website and explore the specific courses you're interested in.
Look at the type of programs offered, program lengths, tuition fees, admission requirements, and start dates.
2. Consider other factors
Once you've looked over some important details, consider other factors that might be important like accommodation, visas, living expenses, and additional costs for books and travelling.
Create a list, and compare your options. Many institutions's websites now offer an on-site comparison tool which you could also use to compare programs and narrow down your options.
3. Ask people who have been there
Another great thing that can help you decide whether a program is worth your time and money is to ask people who have been in your shoes.
With the power of the internet, you can easily look up people who have completed degrees in these programs through Linkedin or Alumni websites, and ask them specific questions about the degrees they completed.
What benefits have they taken from their program?
How has the program impacted or helped them in their careers?
Asking specific questions about a program and how it's helped or not helped someone in their career can help you narrow down whether a program is or marketing as a field in itself is the right fit for you and really worth pursuing.
4. Review the program offered – this time in depth
In addition to asking people who have completed a program you're considering, reviewing the course description, syllabus, and the rates of people who have graduated from the program, secured jobs in the field or gone on to pursue great careers, are some ways of getting valuable insight on the program.
Certification and Courses offered by Marketing Associations, and Professional Business Groups
There are a few certifications or exams that you can take through marketing associations, or professional business groups. Here are 2 great options for beginners, and more experienced marketers.
The AMA offers a solid digital marketing certification called the Digital Marketing Pro Certificate that is delivered through partnership with Digital Marketing Institute (DMI).
Once you complete the program, you become duly certified with not one but TWO credentials from both the AMA and the DMI.
How do I decide if the AMA is worth my time and money?
The total cost for the AMA digital marketing certification is CA$1748.
In order to get AMA certified, you will need to complete 30 hours of self paced online learning and then register to sit the AMA certificate exam.
If the cost and self paced online learning format are not a problem for you and you're trying to decide whether it's worth doing, start by looking through job descriptions, and your companies of interest.
How often do you come across these credentials in your field of interest?
Does the job description require an AMA credential? Do people in your company of interest have AMA credentials?
If so, then this might be a good program to consider.
You could also look through their website and determine if the topics covered by the program are exactly what you're looking for.
The CMA has a 2 year online program called the Chartered Marketer Program for Canadian Marketers.
The application fee for the program is CA$200 and the total course fee ranges between CA$7500 to CA$9200.
The curriculum is quite expansive and includes topics like proposition development, financial management, campaign development and marketing technologies.
How do I decide if the CMA is worth my time and money?
The CMA's 2 year online program is suitable for people who already have post-secondary education or experience in marketing.
If you meet the eligibility, enjoy online learning, and the CA$7500-9200 program fee isn't a problem for you, make sure you look through the website and explore the curriculum in depth before making a final decision.
Certification and Courses offered by Online Course Platforms
Another great way to get digital marketing certified is to complete programs or courses through online platforms like Coursera, Udemy and Skillshare.
When I was looking at online learning 7 years ago, coursera was one of the many learning platforms that was just beginning to grow. Back then I completed a course called Entrepreneurship and Innovation offered by the University of Michigan. But a lot has changed since then.
Now, Coursera offers thousands of degrees and certificate courses in different languages, at different difficulty levels, as well as specialization, and the last time I checked there were over 700 "marketing" courses being offered.
In addition to courses, you can also complete guided projects through Coursera in under two hours which are aimed at helping you gain job-relevant skills.
Courses are available through subscription or individual purchase; with many specializations running on a subscription basis that costs between US$39-79 per month.
If you're not too keen on spending money, for some courses, there is the option of auditing the course for no fee at all. However, in doing so, the downside would be that you would not receive a certificate like you would if you had paid for the course.
2. Skillshare and Udemy – PAID
Like Coursera, Skillshare and Udemy are online learning platforms that offer hundreds of marketing courses which you can do on your own time.
In terms of budget, Skillshare and Udemy are on the lower end of the spectrum and range anywhere from US$10-200 per course.
However, unlike Coursera where courses are typically created by universities and academic institutions and more focused on building academic knowledge, courses offered by Skillshare and Udemy tend to be more focused on building practical skills.
Another thing to keep in mind is that while Udemy offers you the option to get a certificate at the end of the course, Skillshare does not.
However, both Skillshare and Udemy are great ways to gain tangible digital marketing skills which you can apply to anything you're doing in the field.
How do I decide if doing courses through online course platforms are worth my time and money?
When you're choosing a course from any online platform, you should pay particular attention to the reviews and ratings and make sure that you will be able to commit to the program.
Ask yourself, "Do I enjoy self-learning?", "Am I disciplined when it comes to self-studying?", "Is this topic something I am really interested in?"
Because online course platforms typically offer courses for a more accessible cost than some association and business groups or institutions would, at times it can be easy to register for a course but then not follow through very rigorously.
Remember to pay attention to that when you are doing any type of online course from these types of platforms.
Certification and Courses offered by Technology Brands and Marketing Technology Companies
Some of the most common certifications you will hear within marketing are certifications offered by tech brands and marketing tech companies. Here are the top 5 options I recommend.
If you've been following me on my Youtube Channel for a while now, you've probably heard me mention Hubspot and maybe come across a video I created specifically on DM certificates and training offered by hubspot.
HubSpot has a platform called Hubspot Academy and all of the courses they have are free of charge.
There are many courses that you can select to do on Hubspot, but some of my top recommendations are the inbound marketing, email marketing, and content marketing courses offered.
However, not all of the programs on Hubspot are certification courses.
In fact, some of them are called short courses which are shorter, more specialized courses which you can complete. Depending on the course you opt to take you can receive a badge or digital certificate which you can share on your resume or linkedin page.
Regardless of what field you go into, having a basic understanding of Google Analytics and Google Ads is important.
Two great certification options under Google Analytics Academy are the Google Analytics for Beginners and the Advanced Google Analytics Certification.
Under Google Ads, the Google Ads Display and Google Ads Search Certifications are also good options.
Google offers tutorial and educational material that help prepare you for the certification exam however, if you already feel prepared, you can always skip those and go straight for the exam.
In total, there are nine certifications that come up when you search up the Facebook Blueprint Certification; each certification is priced at US$150.
The blueprint certification recognizes advanced level proficiency with Facebook's family of apps and services.
If you are going to work as a Facebook Community manager, with Facebook ads, as a social media manager, or in any other role that uses Facebook as one of the social platforms, then doing some of the certifications on the website might be worth your time and money.
Like Google and other brands, Facebook provides you with the preparation material, and tells you which program is best suited for you depending on what your skills and aspirations are. If you feel prepared to do the exam, you can always choose to jump ahead and get certified.
If social media marketing and working with Facebook is going to be your main focus, then  I would say that doing the blueprint certification is worth it.
Hootsuite is another platform that you'll hear often in the marketing industry.
There are a total of nine certification options on the Hootsuite platform which you can explore in detail, and the prices range from US$99 to $999.
However, I personally recommend doing the Hootsuite Platform Certification Course – which covers how to use hootsuite to do things like running effective social media campaigns, contents, to engaging with different prospects.
This specific course costs US$99, and is worth it if you know that the company you are going to work with is using Hootsuite, or if you want to become an expert in Hootsuite and perhaps differentiate yourself when you are making the job applications.
Like other platforms, hootsuite provides you with the training material which you can go through on your own time to prepare for the final certification test.
The Microsoft Advertising Certified Professional Program is a free program offered by Microsoft that covers everything you need to know to become a Microsoft advertising certified professional.
Specifically, the PPC advertising courses cover the fundamentals of search engine marketing, starting your first search advertising campaign, optimization and managing your budget.
Similar to other platforms, microsoft provides you with the training material which you can complete at your own pace, then once you're ready, you can go ahead and complete the certification exam.
Once you're done with the certification exam, you can enjoy the member benefits which include use of Microsoft's certified professional badge; placement in Microsoft's member directory; and an official printable certificate.
Certification and Courses offered by Individual Course Creators
So you might already know from watching my Youtube videos or following me on my social media handles that I am currently working on creating my own digital marketing course that's focused on helping aspiring marketers kick start their career and land their dream marketing job.
In my course I will be diving into things that you need to do to get your foot in the door, prepare and impress at interviews, and have a successful couple of months in your DM job.
If you haven't yet, sign up to be notified when my online course is ready.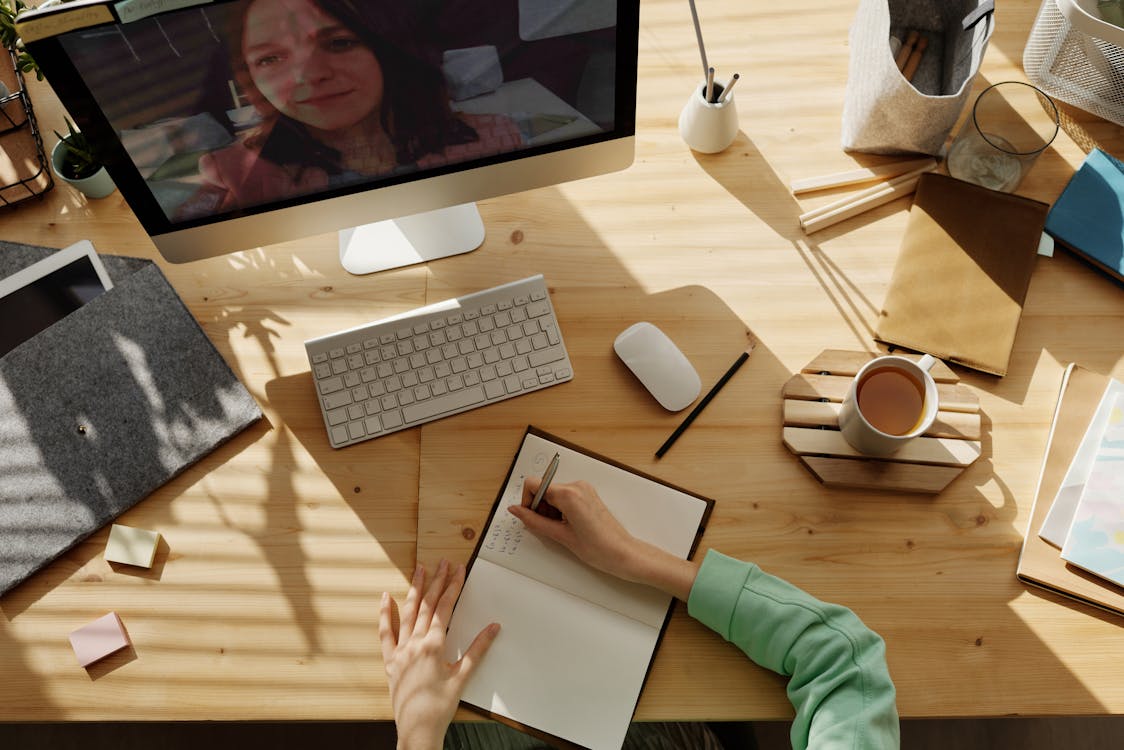 But just like myself, there are many industry experts who you might already follow on social media that are in the process of creating or have already created their own courses in digital marketing.
The material they offer can be really helpful to you if what they offer is specific to your field of interest.
And a great way to decide which course would be best suited to you is to try to make sure that your values and goals really align with what that person is offering and what that person has specialized in.
Conclusion
There are tens of thousands of marketing certifications that you can take from institutions, marketing associations, online learning platforms, and tech brand giants. Therefore, this is by no means all the options present, rather an outline of the different options available.
At the end of the day, there is no 'one size fits all' answer when it comes to deciding which certification is worth your time and money.
But, if you're feeling overwhelmed by the number of certifications available and want to jumpstart or advance your digital marketing career, understanding your preferences can help you narrow down your choices.
Some ways to do so are:
knowing what marketing specialization you're interested in, i.e. digital marketing, content marketing, SEO, PPC, etc.;
what your purpose is in seeking out these certifications, i.e. advancing your current marketing skills, entering the field of marketing, etc.;
your preferred institution, i.e. university, coursera, hubspot, etc.;
how much time and money you have available to invest in the certification
If you're interested in starting a career in digital marketing, and are still trying to decide whether you should get a certificate through pursuing a degree or going down the self-learning route, you may also be interested in watching this video which may be more appropriate for you.
---
‌3 Ways I Can Help You When You're Ready
1. Be a better marketer with the resources I created, including a kickass course to help you land your dream marketing job, templates and lists of resources to accelerate your learning.
2. Work 1:1 with me to define your career roadmap and get support for your marketing job application process.
3. Get in touch to join Superside, Integromat, Whatagraph and many others to promote your brand or business through partnered content on YouTube and other social media platforms to an audience of self-learner marketers!