Essential Remote Working Tools for 2019 & A New Favorite Desk Lamp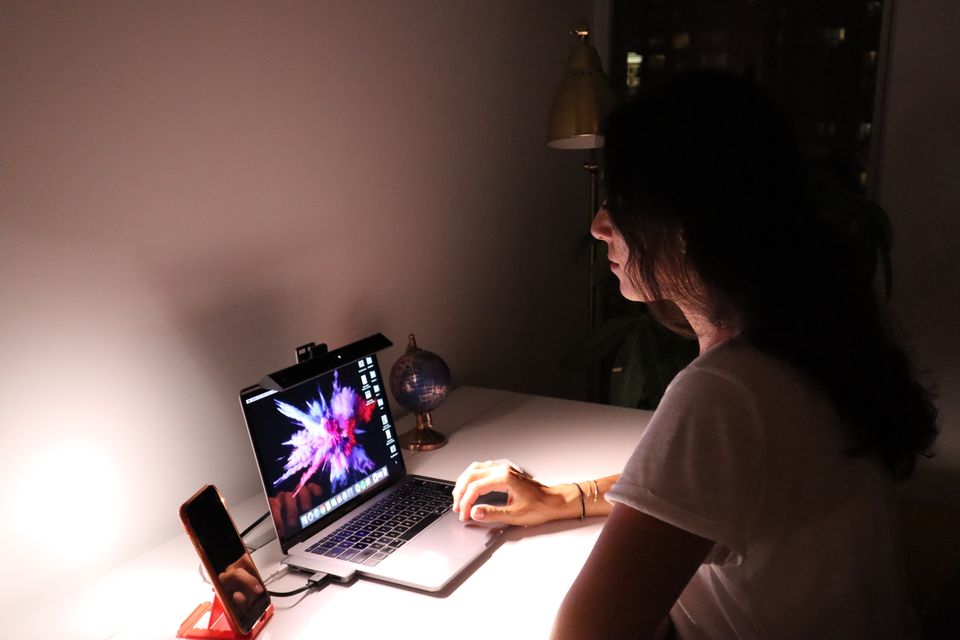 When it comes to work gear, working remotely has taught me to keep my equipment minimal and lightweight. Over the 4+ years that I've worked this way, I have travelled way too many times, worked from over 100's of cafes and coworking spaces and have had 6 home offices. Since I need to be very mobile and ready to make any space my #officeoftheday, I eventually came up with some essential remote working tools, which are literally a handful of items that are always with me and packed in my backpack.
If you're into this lifestyle or have a similar work structure, here's my must-have work items:
Essential Remote Working Tools for 2019
BenQ Desk Lamp – ScreenBar Lite
BenQ ScreenBar Lite is a portable desk lamp that you can attach on the top of your computer screen and it is the latest addition to my work gear. It is powered by USB, super simple to setup, small and lightweight and I love that it doesn't take up any space on your desk because I like to keep my desk really minimal and clean. It takes very little space in my backpack and I can carry it wherever I need to, particularly when I'm working outside of my home office.
I also started to use it frequently at home these days, since I can mostly find time to work around evening and night times after my baby sleeps. I prefer to light up my workspace with the BenQ Screenbar Lite instead of the big ceiling lamp or the floor lamp. I find it much more convenient to just light the keyboard area of my desk instead of a brighter light which isn't the best preparation for sleep.
Another great use of this desk lamp is when you're on the go and don't have control over the lighting of the room/space you're working from. Such as times when you have to work in airplanes, taxis, hotel rooms, etc., and you need your own lighting. I know I could've used this lamp (if I had known of it) so many times when I worked on flights, trains or cars!
For those who agree with me on the fact that simple is better, this lamp is ideal.
Clip on, turn on and action!
It functions with touch buttons and there's even a favorite button which lets you save and quickly turn on your favorite setting.
Light Temperature and Auto-Dimming
There are eight color modes (6500K (daylight), 5700K (cool white), 5000K, 4500K (neutral white), 4000K, 3500K (warm white), 3000K and 2700K (soft white) from cool to warm and I love being able to switch the ligt temperature depending on when I use the lamp. For example If I'm working on a blog post or reading at night time and don't need to be highly alert, I prefer having a warmer light. Whereas when I'm working on a report or a presentation and need a brighter light, I use the daylight mode.
There's also an auto dimming button which is very convenient as it adjusts the light itself and automatically adjusts the brightness.
The only disadvantage I need to mention is that the lamp sits on the webcam, so you would need to remove it in case you need do a video call – but a video call might not be best when the setting is dark anyway.
Airpods
Airpods are probably my favorite Apple product – EVER. It is very light and small, the battery lasts for hours and sound quality is really amazing. I guess some people could argue otherwise if they use it to listen to music and expect super high quality audio, but then I'd say they can buy one of those fancy headphones for that purpose. 🙂
For a daily use, Airpods are just perfect and I absolutely love them. No tangling cables, no microphone that hits your necklace or collar as you speak (especially important when you use your earphones for virtual meetings. The bluetooth connection is also very fast which is a very important factor for me as I hate when devices are slow to connect via bluetooth.
I love mine and know that I will run to get another one in case this is ever lost or broken (hopefully never).
USB-C Port Dangle
I do love my MacBook Pro, but it's really inconvenient that there's only 2 USB-C ports with this model. For this reason, I have to always carry my dangle which has USB ports as well as an SD card reader, and this is super important for me as I always transfer images and videos from my camera.
It's lightweight, small and functional and is always with me.
Camera, SD Card and Mini Tripod
Since my job involves content creation, I almost always have my camera, multiple SD cards and my Manfrotto mini tripod with me. I use a Canon G7X ii and a Canon EOS M50 (with 32 and 64GB SD cards) and the mini tripod is perfect for both cameras. It is also lightweight but very sturdy and it is the second time I purchased the same product because of its great quality.
iPhone & MacBook Pro
Needless to say, but I always have my phone and Macbook with me. They are the key pieces to my work gear and I am very happy with everything about this duo.
As I noted earlier, I like to keep my work gear very minimal and lightweight, so I am quite picky qith my essential tools and try not to add more to this list. I also really don't like carrying heavy bags, so the lighter it is, the better! I focus on the efficiency and outcome rather than how perfect everything is in my workspace.
What are some of your essential remote working tools? Share with me!
See other remote work related posts here.
Pin it for later: