How Much Does A Digital Marketer Make?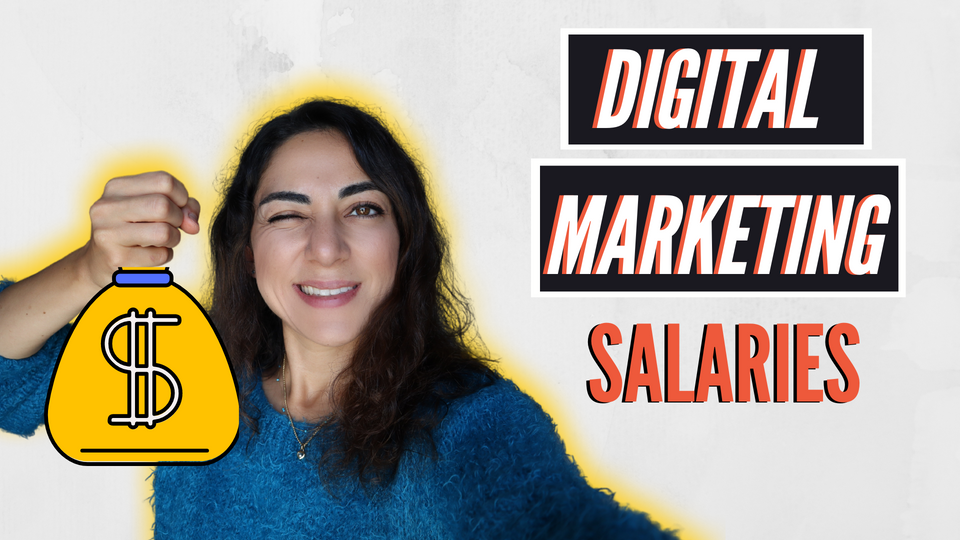 Digital Marketing Salaries in US & Canada
Some of the top questions that bring people to my channel are
"How much does a digital marketer make in the US? "
"How much does a digital marketer make in Canada?"
And…
"How much will I earn as a digital marketer?"
And if you're considering a career in marketing, it makes sense that you're asking these questions.
You clearly want to know if marketing is a career worth pursuing, and if it'll cover your living expenses.
Or maybe, if you're thinking about pursuing a degree or certificate you want to know if this career choice will have a high return on investment and if it's worth your time at all.
That's fair.
In this blog, we'll get you up to date on marketing salaries based on real data and research that I've done surrounding this topic.
We'll also learn about how to think critically, evaluate salary packages holistically, and figure out what the real catch is with some mysteriously high digital marketing salaries (like US$150,000 with only 1-3 years of marketing experience).
If you'd prefer to watch or listen to me, feel free to hit play and pause as needed ⬇️
OK now let's explore how much digital marketers can earn.
PAUSE…
If you've been following me on my YouTube Channel, you might realize that I covered Digital Marketing salaries in a video called "How much will I earn as a Digital Marketer | Q & A".
But in that video, I did not provide a numeric value.
And... some were left frustrated because they JUST wanted a number.
But, it's not that simple.
And I won't just flat out give you a number.
Why?
Because
A. I want you to think critically and learn how to evaluate salaries as a FULL compensation package.
B. I don't want you feeling frustrated down the line when you apply for jobs and do interviews, and realize there's a mismatch between a number you heard, and reality.
So, if you want those things for yourself too, then keep reading.
Reasons you should be cautious when reviewing salary information
1. Average salaries usually cover a specific country
Not all average salaries reflect the average salary for your specific country or geographical location simply because salaries, titles, social & economic conditions are different around the world.
Note that when you see a salary range online, they mostly refer to North America, and more specifically, the United States of America.
2. Average salaries can be different than real salaries
I've come across digital marketing manager roles that called for 1 year of experience and others that required 5 or more years of experience.
In this case, while the title is the same, you can not expect the salary to be the same.
Some companies might offer a little or a lot more based on experience.
3. Company bonuses and growth opportunities
Some companies will offer profit sharing, bonuses and great career growth opportunities, while others might not.
So, while the base salary might be low, you might have a lot of other bonuses that you wouldn't get in other places.
4. Side Benefits
Some companies have great side benefits and perks.
Others don't.
When thinking about your compensation, consider what other benefits might be involved and how this could affect your quality of living.
5. Work format (FT, PT, contract, freelance)
Different work structures can act as a variable to your salary.
Whether you work full time, part time, in a contract, freelance, in-house vs at an agency – it all matters and affects your salary.
6. Industry
The industry you work in will impact your salary.
A pharmaceutical company or large construction corporation might pay more than a hospitality company or vice versa.
It all depends.
Average Digital Marketing Manager Salaries in the US
Now that you know how to assess salaries more critically, let's get into what the average digital marketing manager salary is for the United States ?? ??.
1. Payscale
At the end of 2020, the average/median salary for a marketing manager in the US was US$66,659.
While the range was almost double – US$44K – 99K.
Now that's according to Payscale.
But when we adjust the average scale above to look at how much someone who might be in their mid-career makes, the median shifts to US$71,441, which is about a 2K – 3K jump per year.
You can do an in depth research specific to your own needs on payscale.
2. Glassdoor
When we look at Glassdoor, we get that the average salary for a marketing manager in the US is US$75,847.
And the range for the role is between US$46K – US$112K (without adjusting for the years of experience).
3. Salary.com
According to salary.com in the US, a Digital Marketing Manager makes on average US$102, 932.
But, as I mentioned, salary.com goes on to clarify the factors that could affect this range  including your education, certification, skills, number of years you've spent in your profession, etc.
Average Digital Marketing Specialist salaries in the US
I also wanted to look at what a marketing specialist would make in the United States.
According to Payscale, the base salary median for a digital marketing specialist in the US is US$50,054.
Average Digital Marketing Specialist salaries in Canada
Enough about the US.
Let's talk about Canada, Eh? ????
According to Payscale, you can expect to make CA$ 50,639 on average for a Digital Marketing Specialist position in Canada.
But… what you might notice is that compared to the managerial position, the range is much smaller.
Are you located outside of Canada or curious about the salary for other digital marketing roles (PPC, SEO, Content Marketing, etc.)?
Use payscale. Enter your location, and other specific information that might be relevant to your current situation.
Or…
Read this comprehensive blog by the Digital Marketing Institute that explores the different salaries for a range of positions within marketing.
Why should you pay attention to the salary range?
Knowing the range that people make in a specific role comes in handy especially when you're negotiating a salary at an interview.
This will prevent you from overshooting or undershooting yourself and getting disqualified in an interview.
Negotiating your salary is a skill that you should practice and something that you can get better at.
2020 survey research on digital marketing salaries for different roles within the US and Canada
My friend Kamil Rextin at 42 Agency did a fantastic job by reaching out to people within his network who are currently in different marketing positions and conducting a marketing salary survey.
His research breaks down the current annual salary compensation for digital marketers located in the USA and Canada (mostly located in Canadian cities) in US dollars years based on the years of experience they had within the specific role.
The results? You can pause the video and look at the range for different digital marketing positions right here.
But… If you just want to know the range for a Marketing Manager with 1 – 3 year of experience, you'll be surprised to hear that according to this survey, it was reported to be between US$40,000 – US$150,000.
US$150,000 for 1 – 3 years of experience!! ??
Enticing? Perhaps?
But, remember what I said about the different factors that affect your salary?
Industry
Work benefits
Profit sharing
Bonuses
Location
Work format
Maybe this specific person works in a lucrative industry, has specific in-demand skills, and works at a highly competitive company with great incentive pay.
It all depends.
It's safe to say that for the most part, you (sadly ?) won't be making US$150,000 for 1-3 years of experience in a marketing managerial position. But this doesn't mean that it's impossible.
Rather, a salary of US$100,000+ per year is more realistic for someone in a Marketing Director position or VP of Marketing position in their later years.
Which is still fantastic!
Median Salary for a Digital Marketing Manager and Digital Marketing Specialist according to 2020 survey research
To summarize our findings, according to Kamil's Survey, the median range for a Digital Marketing Manager's salary in the US and Canada is US$65- 75K.
While the median for a Digital Marketing Specialist in the US and Canada is US$65K -75K.
Final Thoughts
While some marketers make over US$100,000 with only 1-3 years of experience, there are various factors that can contribute to a person's overall salary, and it's critical that you approach digital marketing salaries from a holistic perspective.
What's the context? Where is the position located? How many people might you be managing? What industry is it in? How many hours will you be working for? What skills or certifications do you need? Who are you working for? How many years of experience do you need? Is it a niche field or more general field? Are there bonuses or payment incentives? How about health benefits, profit sharing, and room for growth?
The list is endless.
In some cases, knowing the range for a specific role within your city and skillset can help you negotiate a salary that might be higher than you had originally anticipated or been offered.
Regardless, digital marketing is a growing field with plenty of opportunities and a little bit of experience can go a long way.
---
3 Ways I Can Help You When You're Ready
1. Be a better marketer with the resources I created, including a kickass course to help you land your dream marketing job, templates and lists of resources to accelerate your learning.
2. Work 1:1 with me to define your career roadmap and get support for your marketing job application process.
3. Get in touch to join Superside, Integromat, Whatagraph and many others to promote your brand or business through partnered content on YouTube and other social media platforms to an audience of self-learner marketers.