How to ACTUALLY break into marketing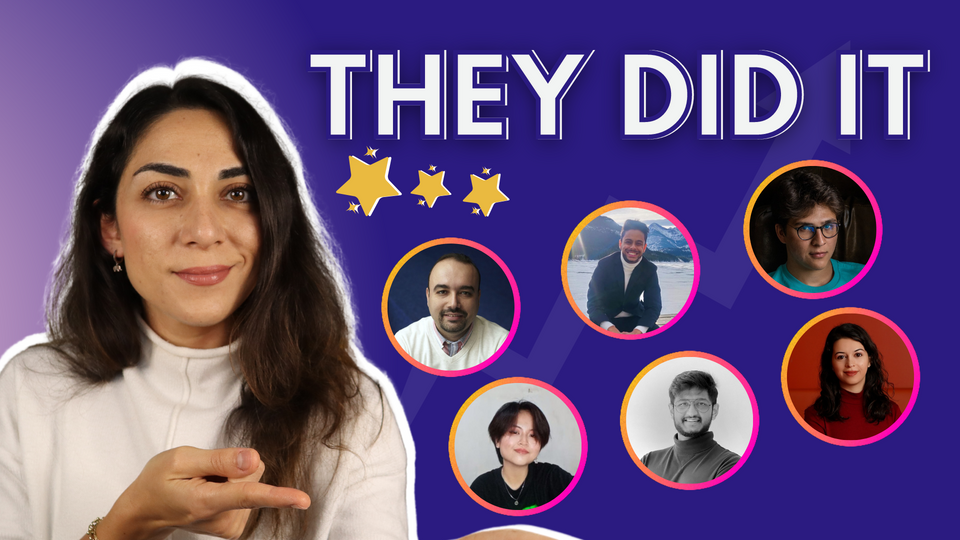 I talked with 6 marketers and here's what they said...
Sometimes, even the best tips, strategies and resources are not helpful when it comes to landing a job in marketing.
It's normal (and pretty common) to find yourself confused about how to exactly break into marketing.
You might be learning and applying for jobs and maybe even interviewing with some companies, but if it just hasn't happened yet, please don't feel alone. There are so many people in the same boat as yourself and despite having so much content to support this journey, this is still probably the hottest question in my inboxes.
So I decided to invite my friends from the industry to speak about their stories of breaking into marketing.
Everyone has unique angles, different ways of landing their first jobs in marketing and tips for you.
But first...
WHY does it feel so hard to break into marketing?
1. Marketing is a hot field 🔥
This means there's a lot of competition.
It's one of the best careers if you want to work remotely. But aside from this, the job outlook is very promising.
According to the US Bureau of Labor Statistics, there's a 10% expected increase in the number of jobs between 2021 and 2031, which is faster than average for all occupations.
Another article shares that according to Payscale, the nationwide average salary for an entry level marketing analyst is $50,824, which is much higher than the nationwide average salary of $36,000.
2. It's a broad field
This means there are many different paths you can take and the skills required for these different paths are actually pretty different.
What you might need for a product marketing role is very different than social media marketing for example. If you have questions around which specialization is a better fit for you (and I know how difficult it feels to choose one) - you should watch the video I made on marketing career planning guide where you you will learn how to match your personality and work habits with paths in marketing.
3. Requirement for prior marketing experience
This is where many people get stuck.
How do you get experience before getting experience? The worst kind of chicken and egg problem. It's a vicious cycle.
Side hustles, volunteer or internships are a great way to do it. Here are some additional resources to check out on this.
5 [Marketing] Jobs You Can Do Online with No Experience: https://youtu.be/cUwQmSo3L1s
How To Choose a MARKETING CAREER PATH: https://youtu.be/CYcMJNy25yM
How to Create a [Marketing] Resume with NO Experience: https://youtu.be/kt93maICVbE
How to GET DIGITAL MARKETING EXPERIENCE: https://youtu.be/SJC0MEYVjno
Now onto learnings from other marketers...
Make a list of companies you would want to work for
Explore the employees working in those companies
Connect & if you can - find a mentor
Take initiative and exceed expectations when you are given an opportunity to show yourself
JUST DO IT
Get experience in the industry
Experience it yourself - you won't learn from certificates
Be open to work for free for a period of time to build a portfolio and take this period very seriously
Get a partner who is knowledgeable and leverage their brand/experience/skills for a mutually beneficial engagement
Work in an agency first because that is the kitchen of marketing and you can get experience across a variety of clients, services, etc. Then it's easier to move to the client side
Keep learning & be open minded
Work on your writing skills
Help others out with their work on subjects you're interested in pursuing
To hear their full stories, I highly recommend watching the full video and getting the full dose of inspiration!
Plus, you'll also hear about my own story and advice for aspiring marketers at the end! 😉
---
‌3 Ways I Can Help You When You're Ready
1. Be a better marketer with the resources I created, including a kickass course to help you land your dream marketing job, templates and lists of resources to accelerate your learning.
2. Work 1:1 with me to define your career roadmap and get support for your marketing job application process.
3. Get in touch to join Superside, Integromat, Whatagraph and many others to promote your brand or business through partnered content on YouTube and other social media platforms to an audience of self-learner marketers!