20 Powerful Marketing Tech and Tools To Grow Your Small Business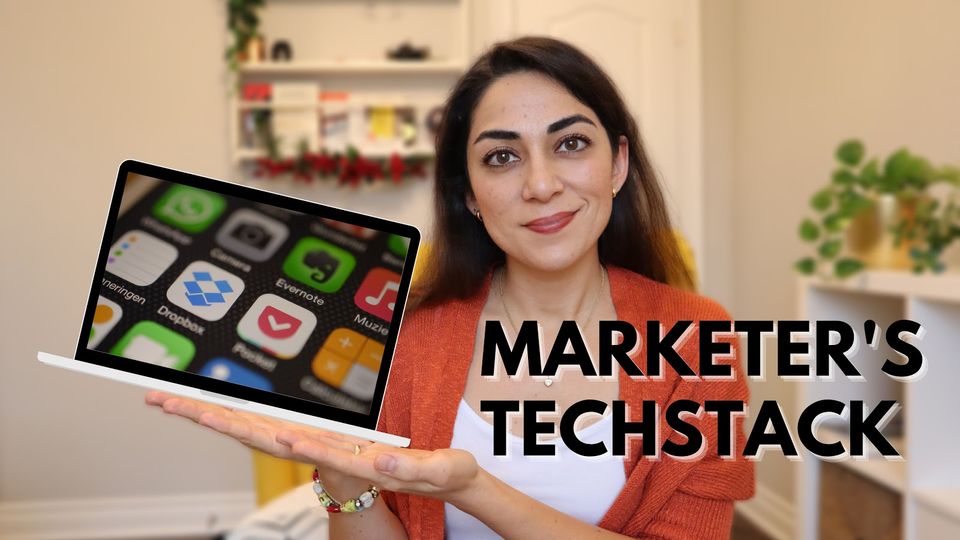 Almost 5 billion people use the internet every day to search for a product, service, or solution to their problem, which means if you have an online business in 2021, there are an endless amount of opportunities for you to attract the right customers.
However, as a consultant, marketing educator, and content creator who has been in business for a while now, I can confidently say that running, marketing, and growing a business (especially alone) is no easy feat.
It takes time, patience, perseverance, planning, and…an appropriate marketing technology stack.
Let's face it, with thousands of businesses going online, it has become increasingly challenging for small businesses to grow and thrive.
But with the right marketing technology stack and the right mindset, it is possible.
In this blog, I'll be going over the top 20 marketing tech and tools I use to create and distribute content as a consultant, marketing educator, and content creator in 2021.
As always, if you'd prefer to watch or listen to me,  feel free to hit play and pause as needed ⬇️:
Digital marketing tech and tools I use to run, market and grow my business
What is a marketing technology stack?
A marketing technology (MarTech) stack is a group of software and tools that a marketer uses to execute and improve their marketing campaigns.
This can include tools and software that help with lead generation, data analysis, email automation, and other elements that help execute and measure the overall success of one's marketing efforts.
What is the most successful marketing tool for small businesses?
It's hard to say which tools alone will give you the most growth and success because depending on what type of business you have (B2B vs. B2C), what your goals are, and how you use your tools, your efforts might yield very different results.
Personally, I like to keep my tech stack as small as possible to avoid overwhelming myself.
But that's also because, after a lot of trial and error, I've found that a combination of just over 20 different marketing tech and tools is what works great for me and my business goals.
With some of these tools, I've managed to hit milestones like going from 0 – 20K youtube subscribers during my maternity leave and helping tens of thousands of people navigate their marketing career journey.
So while there isn't a set of marketing tools that will magically transform your business, if you're a small business owner and content creator like myself and READY to learn about some great marketing tools you can use to grow your business, then keep reading.
Design
A huge part of content marketing strategy involves graphics and creative design. Incorporating visual content helps drive traffic, visitors, leads, build connections and bring in revenue.
Canva
If you've been in the marketing space for a while and have not come across Canva, it's time you checked it out!
Canva is one of my most used marketing tools and the first software I upgraded from to the PRO version for my business. It's quick, easy, and has changed my life!
Canva is great for creating:
Youtube thumbnails
Social media images
Instagram Stories
Presentations
Cover letters
Brand document & style guides
Logos
Essentially, any document that needs an aesthetic uplift goes straight into Canva.
Unsplash and Pexels
If you don't have a stash of photos ready to go and you need to fill out your blog or social media feed with quality stock images and stock videography, Unsplash, Pexel (and now, canva too) offer an amazing variety of photos and videos that you can use to help bring your projects to life.
Web Performance and Analytics
If you want to keep your visitors on your page and move them further down the sales funnel, you need to understand what's keeping them on your page and what they're looking for.
Web performance: refers to how quick your web pages load on a user's web browser.
Web analytics: refers to measuring and analyzing data to understand user behavior and activity across your web pages.
Google Analytics & Google Search Console
Right now, I use both Google Analytics and Google Search Console to complement one another.
Specifically, I use Google Analytics to look at data about the performance of my website and Google Search Console to analyze what keywords are bringing traffic to my pages and to ultimately improve and optimize my content.
Want to learn how to use Google Analytics?
Here I go into detail on how to get started without a website!
Keyword research
If you haven't implemented keyword research into your marketing strategy yet, you need to start now.
Conducting keyword research is extremely important and can help you better understand your business and what people are searching for (instead of trying to guess what people are searching for).
When done right, relevant keywords can also help you drive traffic to your website or platform of choice and bring revenue to your business.
Keyword research tools I use for my Website and Youtube Channel:
There are several tools that I use, and to go through all of them in detail in this blog post would be overkill, but here's my go-to list:
Google Trends
VidIQ
Google Keyword Planner
Ubersuggest
Social Media Automation
You can't be everywhere at once, but you can use tools and software to help you post and share content across different social media platforms without having to do it manually all the time.
Buffer and Hootsuite
When it comes to social media management tools, Buffer and Hootsuite are amongst the most popular.
While I don't currently use Buffer and Hootsuite, I have in the past and can confidently say that they are both excellent.
If you were to ask me which one I prefer, I'd say Buffer for their user experience and easy to read analytics.
Native Social Media Platform
Right now, my go-to for scheduling posts across different social media platforms is going straight to my platform of choice and using the native publishing and scheduling options provided.
It may not be the most efficient thing, but it's what works for now and what keeps my apps and marketing tech stack count at a minimum.
P.S. While Facebook and certain social media networks have a schedule later option,  other platforms like LinkedIn do not.
In that case, I pick a time and date and publish my content then and there.
Calendar and Scheduling
Have you ever tried scheduling a meeting or chat with someone and gone through various back and forth emails before finally deciding on the perfect time, date, and place?
Or maybe, double-booked yourself because you forgot to put it down on your calendar?
I know I have, and it can be time-consuming, exhausting, and sometimes a little awkward.
But thankfully, those days are over.
Calendly
Calendly is an online appointment scheduling software that helps schedule meetings without the need for back and forths.
I currently use the free plan but am considering upgrading it in the near future.
Google Calendar
In addition to scheduling meetings on Calendly, I put everything down on my Google Calendar.
Keeping things in one place makes sure that you avoid awkward situations like double-booking yourself or missing important meetings and deadlines.
Google Hangouts and Zoom
For all my virtual meetings, I like to keep things simple and use Google Hangouts and Zoom.
Documentation & Project Management
There's nothing worse than having your business notes all over the place. Keeping track of your documents and projects are a must if you want your business to succeed.
In the past, I have used a combination of Apple Notes, Evernote, Trello, and Asana for my project management and note-taking but have managed to downsize and transfer everything over to 2 major platforms.
Notion
Notion is a versatile tool and all-in-one workspace for your notes, documents, projects, and tasks.
There are hundreds of videos on Youtube on how to set up your notion and use it effectively to organize and manage different aspects of your life and business.
It's simple to use with your team or individually, and I highly recommend it.
Google Workspace (Formerly G Suite)
If you have many documents and frequently use Gmail, you've probably come across Google Workspace.
I use Google Workspace to store my vast array of documents and to work on different projects.
Search Engine Optimization (SEO)
SEO is a vast field, but if you want to improve your business's online presence and appear on search results and search engines, you will need to understand how SEO works well.
Screaming Frog
On-Site SEO is essential if you want search engines to find your content and rank.
To help make my content search engine friendly, I use Screaming Frog.
Screaming Frog is a website crawler that helps improve onsite SEO by specifically extracting data & auditing it for common SEO issues.
Moz Link Explorer
Search engines use backlinks or inbound links/incoming links to help find and rank content.
To improve my backlinking strategy, I use Moz Link Explorer, which helps measure the number of backlinks I have, linking domains, and my most valuable pages.
Yoast SEO
I cover Yoast briefly in the latter part of my blog, but I wanted to highlight how much of an invaluable SEO tool Yoast SEO premium is.
The premium version helps with technical SEO, content SEO, and content readability by providing feedback that you can incorporate.
You can also use Yoast to further optimize and assess your website's health by integrating it with Google Search Console.
If you want to look at a list of Yoast SEO premium's full features, you can do so here.
Unfortunately, Yoast only works on self-hosted WordPress sites, so if that's not you, this one's sadly not for you.
Email Marketing
If you want to build a relationship with your leads, current and past customers, and grow your business, email marketing is a great way to do so.
MailChimp
MailChimp is and has been my go-to email marketing platform for the longest time.
The beauty of MailChimp is the platform's usability and that you can start and stay in the free plan for a long time, depending on your growing needs.
Even with the forever free plan, Mailchimp is excellent for:
Building newsletter subscribers
Creating sign up forms
Building email campaigns
Creating Landing pages
Running basic automation even to sell digital products – which isn't necessarily one of its main selling features.
If you're new to digital marketing tools or email in general, MailChimp is a great starting point.
Communication
If you work with a team on a day-to-day basis and have many calls to attend to, you're going to need a few apps to streamline that communication and stay connected.
For remote communications with my team, I use Slack and, where appropriate, Google Chats, Whatsapp, and Messenger.
Audio/Video Recording & Editing
Have you ever watched videos and wondered how some creators manage to create walk-throughs or videos on Youtube so effortlessly and without breaking the bank?
If so, you're in for a treat.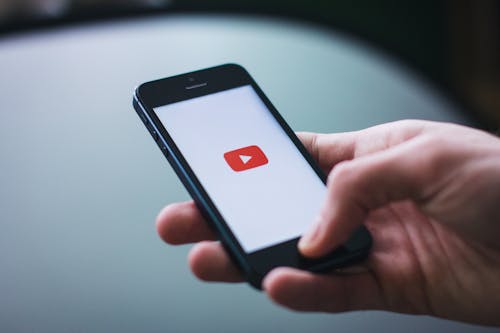 Loom
For walkthrough/step-by-step videos, I use Loom.
Loom allows you to record and share video messages of your screen, cam, or both.
It is free to use on Mac, Windows, Chrome, and iOS and your videos are downloadable or shareable via a URL.
Zoom
Everyone knows that Zoom is a great tool for online video calls, true?
But did you know that if you host a meeting with just you in the room, you can make a video of you at the bottom and screen share at the same time?
Well, the more you know .
iMovie
You don't need to break the bank to produce and edit quality videos. Use what you have.
Especially, if you have a Mac, iMovie works perfectly fine.
In fact, it's what I use to create all of my Youtube videos.
Surveys
If you want to know how to grow and improve your business, one effective way to do so is by asking the people that use your business and conducting market research.
My two go-to tools for creating surveys are:
Survey Monkey
Google Forms
Distribution
If you want to aggregate links and have your audience on Instagram (IG) transition smoothly from the IG platform to your website, a different page, or other content you want to promote, try Linktree.
Linktree
Linktree is a free bio link tool used by brands, creators, and influencers to move people on Instagram from the platform to other links.
Website
There are so many software, tools, and plugins readily available for business owners to create their own websites and potentially grow their business.
Here's what I used to create my website, ElifHiz.com.
Domain and WP hosting
CMS Platform
WordPress Theme
Plugins
Yoast (premium) – for SEO
MC4WP: Mailchimp for WordPress plugin (paid version) – to integrate mailchimp subscriber list with wordpress
Social Media
Where is your audience? What are your goals? Do you need to review your marketing strategy or create a marketing campaign plan?
There are various platforms that you can use for brand development and marketing.
But ultimately, which platform you use depends on what fits your brand best.
Here are the social media platforms I use to market my business:
Conclusion
There are many digital marketing tech and tools that I use to run, market, and grow my business as a consultant, marketing educator, and content creator.
But what works for me might not necessarily work for you and your business.
It's all about what you want and need for your business. Try out some of the tech stack I've mentioned, and explore others that might be more appropriate for your business and goals.
And… while this list might be an appropriate tech stack for a small business owner or content creator like myself, you'll find that if you were to work at a large marketing agency, startup, or corporation, the selection of software and technology you would use there would be much more comprehensive and paid (or premium) versions. That's because most large agencies have larger budgets and invest in marketing tech and tools to better serve their clients.
---
‌3 Ways I Can Help You When You're Ready
1. Be a better marketer with the resources I created, including a kickass course to help you land your dream marketing job, templates and lists of resources to accelerate your learning.
2. Work 1:1 with me to define your career roadmap and get support for your marketing job application process.
3. Get in touch to join Superside, Integromat, Whatagraph and many others to promote your brand or business through partnered content on YouTube and other social media platforms to an audience of self-learner marketers!