5 Things to Know Before Starting a Career in Marketing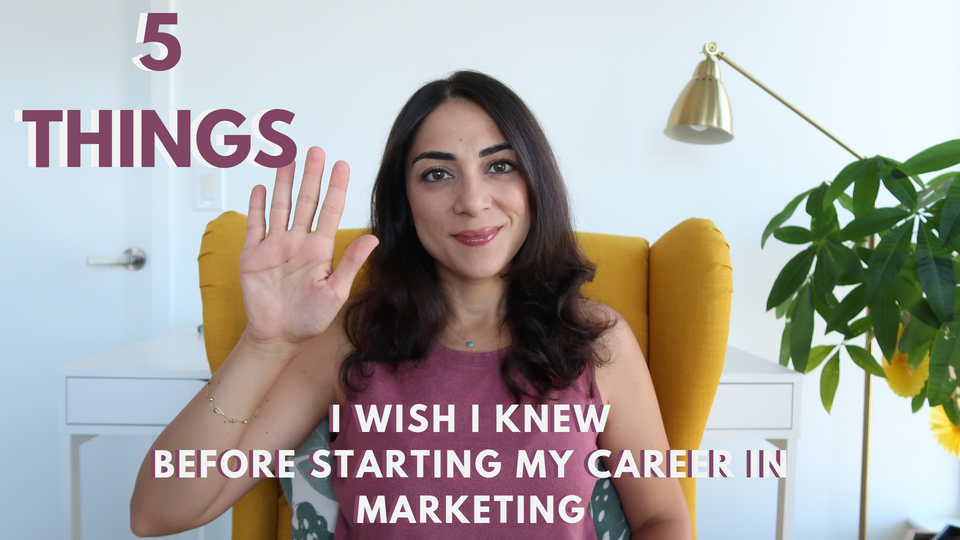 Starting a career in digital marketing doesn't necessarily require a specific degree. Nevertheless, you will need to study a great deal of information, gain relevant skills and expertise to establish your career.
As a novice in the early days of my career, I had to go through many experiences and I learned by trial and error. In this post, I'm going to share with you the lessons from my journey through five key points. These tips are not only helpful to enhance the knowledge you already possess, but also to prepare yourself for the ongoing learning process that is the foremost requirement of digital marketing.
1. Network
Meeting and interacting with people may seem quite simple and easy for some, while can be a huge challenge for others. No matter how you feel about it, I'll tell you this: it is something most marketers ignore at the start of their careers. The reason may be lack of confidence or the fear of the unknown. However, networking is a potential opportunity for making a friend, finding a community of like-minded professionals and maybe even finding a mentor – all crucial things to have in life. Just one confident step towards establishing a network of people in your industry can open numerous doors and opportunities.
You can start networking on the platforms you already use to interact and socialize with people.Such as:
Another great way to network is attending events at educational institutions, industry conferences and utilizing platforms like Eventbrite and Meetup to find local gatherings and networking opportunities. They are very helpful to look up and attend events in your own city and join a community that share similar interests and goals with you. If attending events or in-person networking is not your thing, don't let this stop you. Linkedin and other online platforms are really great in closing that gap. Reach out to people and have coffee chats over Zoom.
See how I do it these days and record for my channel.
One last tip in this regard is to take mentorship from the people you identify as role models. This would be super valuable in your career. A mentor is an experienced person who provides proper insights, guidelines and motivation to mentees. With good mentorship, you can expect to get the inspiration and guidance to set your goals, identify helpful resources and  potentially design your career path.
2. Choose a Specialization in Digital Marketing
Digital marketing is a big, diverse and constantly evolving field. For this reason, choosing a specialization and making it your superpower is very important.
It is very common to start your career as a generalist, but over the years you should identify the areas you do and don't like. I have really benefited from having a focus area and building expertise. In 2018, when I moved to Toronto from Turkey, I was a newcomer to the country and found myself in a completely new job market. The fact that I specialized in Inbound Marketing was the key factor that helped me get a job in no time because I could differentiate myself from the candidate pool. The same goes with my husband – he was able to find a job quickly because of his specialization in his particular field.
If you want to learn more about choosing a specialization in digital marketing, this resource will be very helpful to you.
There are lots of branches and subjects that you can specialize in. Some examples of specialization fields in digital marketing include:
Social Media
Search Engine Optimization (SEO)
Search Engine Marketing (SEM)
Analytics
Email Marketing
Copywriting
Advertising and Public relations
Brand Management
With the evolution of marketing from old-fashioned outbound approach to a modern inbound outlook, buyers enjoy full liberty to take decisions by doing the ultimate research. It is a practical idea for marketers to develop basic understanding of all disciplines and master one or two (What Rand Fishkin calls a T-Shaped Marketer.
3. Create Your Personal Brand
The power of a winning resume can not be underestimated. But in this modern era, resumes are no longer sufficient on their own.
Whenever you hear someone's name for the first time, what's the first thing you do? Go to Google and search their online presence. Who is this person? That is why I highly recommend to not only create your own personal brand but also act like one.
What is Personal Branding?
A personal brand is a unique message consisting of core values and beliefs that an individual person or a business wants to be known for.The message represents the professional traits such as consistency, dedication, skill set, tone, transparency and uniqueness.
It is crucial to invest your time in creating an online image that reflects your personal and professional values.
Here are several ideas to consider when working on your personal brand:
Set up social media business accounts
Create a YouTube channel
Start a podcast
Build your own website
Create and curate engaging content
Be real and accessible
Build credibility and trust
Keep your brand voice and tone consistent
Respond to feedback
Make contact with influencers
Benefits of Personal Branding
Personal branding helps you to build soft skills such as:
Adaptability
Leadership
Problem solving
Creativity
Work ethic
Personal branding gives you a professional identity
Personal branding helps you to build your career
Personal branding gives your brand a unique selling proposition by creating a competitive edge
Personal branding helps you to build an engaged following
When you challenge and motivate yourself to go beyond your limits then you gain confidence to polish your creative and technical skills.That is why building a powerful personal brand is an ongoing process that makes you authoritative in your niche.
4.  Be Curious and Digitally Active
Be very open to constant learning and experimenting, keep yourself up to date with business trends and news in the industry.
Have an open eye for:
What are businesses doing in terms of their marketing?
How do they communicate their messages?
Which platforms and channels they use?
How do they engage with their audience?
The final part of this tip is to be digitally active. You do not really have to be an influencer to be active on digital channels. But if you want to be in digital marketing, you need to learn how different marketing channels and algorithms work. You need to be knowledgeable and aware of how this ecosystem functions.
Here is a collection of great marketing blogs:
Here is a collection of great marketing Podcasts:
5. Take Online Courses And Gain New Skills
It is never too early or too late to start taking courses. Most of the top marketing platforms like Hubspot provide free online courses
And you will only benefit from these if you are ready to allocate your time and energy to learn exciting things. The constant learning process can also help you to decide which field of digital marketing you want to do specialization in.
These online courses can really help you to gain new practical skills even if you are already studying marketing in school. For example, you can take these courses to learn how certain softwares work  – ie. Hubspot Marketing Software. This will help you to keep yourself ahead of your competition. Imagine that you apply for a job and that company is using Hubspot as their marketing platform – you immediately have a competitive advantage.
Best online sources to take digital marketing training are:
You can take courses to learn about all kinds of topics such as (but not limited to) Google Adwords, content creation and curation, campaign management, social media management, digital public relations.
Let me know if you find this post helpful.
---
‌3 Ways I Can Help You When You're Ready
1. Be a better marketer with the resources I created, including a kickass course to help you land your dream marketing job, templates and lists of resources to accelerate your learning.
2. Work 1:1 with me to define your career roadmap and get support for your marketing job application process.
3. Get in touch to join Superside, Integromat, Whatagraph and many others to promote your brand or business through partnered content on YouTube and other social media platforms to an audience of self-learner marketers!