How To Choose Your Marketing Specialization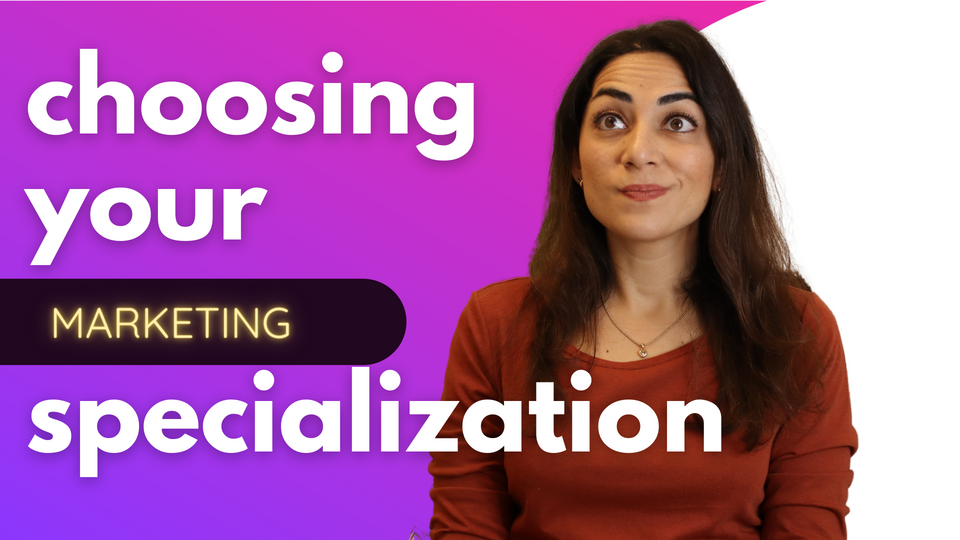 How to choose a marketing specialization is one of the key questions that comes up for anyone looking to start a career in marketing. It is an FAQ from my YouTube channel and seems to be one of the topics that confuses you the most. So let's dive into the subject and I will answer the following questions and will share my ideas on how to map out your career direction.
What are marketing specializations?
How do you know which is the right one for you?
Why do you need one?
If you need help to map out your direction in marketing, you don't want to miss this video. Or continue reading here.
So, first thing's first…
What are specializations in marketing?
When we talk about a career in marketing, we have to realize that it's a BIG concept. There are many different branches underneath it, which is why it's  important to dig a little deeper when you say, "I want a career in marketing".
What exactly are you looking for? Where do your strengths lie? Do you enjoy data? Do you enjoy design? Do you enjoy writing? Filtering down all the different career paths in marketing will help you discover a specific area that you are interested in.
Some career paths in marketing are:
Content marketing
Search engine marketing (SEM)
Market research
Marketing analytics & data analyst
Social media marketing
Marketing designer
Product marketing
Inbound marketing
Influencer marketing
---
A good place to start would be to check out my 'Marketing Career Guide' video on YouTube. In this video, I provide an in-depth overview of the marketing world and the different avenues within it. You will learn about the various industries within marketing, different work models and the various career options that you can take.
---
Narrowing down the options that you want to focus on will help you become more targeted. And becoming more targeted is super important in achieving success as having a strong focus will enable you to become knowledgeable and experienced within that field.
Being aware of the different subjects before you consider applying for jobs will help you to define which specializations resonate with you, and therefore which route might be best suited to your skillset.
Take a look at the 8 essential skills every marketer needs to have.
Tip #1: Strategize Your Job search
What do the professionals do?
Once you've learned about the different specializations in marketing, take a step forward and start researching the people who work in these fields.
What have they done? What is their career path like? What did they study? What experiences have they shared on their platforms? What certifications did they do? What are their day-to-day jobs? What are the responsibilities or challenges within their jobs?
If you are unable to have direct conversations with people, then you can always search for them online – LinkedIn is a great place to start. You might find that they share their journeys online, like I share mine on YouTube. Their stories can be significantly helpful and inspiring.
Tip #2: Get Inspired
What does the job market tell you?
It would be worthwhile to do your research on the jobs trending in the market.
What titles are companies looking for? What roles are being advertised? What skillset are they looking for? This will allow you to identify any gaps in the market. Your research will show which specializations are in demand and the types of roles that are on the rise.
Which specialization should I choose?
Feedback on my YouTube Channel suggests that some of you may be selecting marketing specializations on the basis that they appear to be 'easy' or 'higher paying'.
While I don't believe this necessarily is wrong, be aware that if you select something which will eventually make you bored, or isn't your strong suit, the likelihood is that you'll not be successful in it. You will find it hard to stick with.
For example, if you know you hate working with numbers and spreadsheets, it's probably best to avoid marketing data and analytics. On the other hand, if you love reading, writing, and absorbing content, copywriting or content marketing may be for you.
Tip #3: Choose A Specialization
What now?
The final stage is to put your learnings into practice. Build some experience to make sure that the selected specialization is for you.
For example, if you always thought you'd go into social media marketing, but you don't use social media, or you hate being on it, how do you know a full time career is the best move for you?
Tip #4: Build Experience
Exploring a career in marketing can seem daunting at first, with so many career paths to choose from. Narrowing these down into the different specializations can help you better understand what marketers in these fields do on a day-to-day basis, and will give you an insight as to what you could be doing in the future.
Taking the time to put some of your learning into practice and testing out what it is that you enjoy will expand your knowledge and will provide you with the first few steps into your chosen marketing specializations.
Good luck!
---
3 Ways I Can Help You When You're Ready
1. Be a better marketer with the resources I created, including a kickass course to help you land your dream marketing job, templates and lists of resources to accelerate your learning.
2. Work 1:1 with me to define your career roadmap and get support for your marketing job application process.
3. Get in touch to join Superside, Integromat, Whatagraph and many others to promote your brand or business through partnered content on YouTube and other social media platforms to an audience of self-learner marketers!