Free Marketing Resources To Follow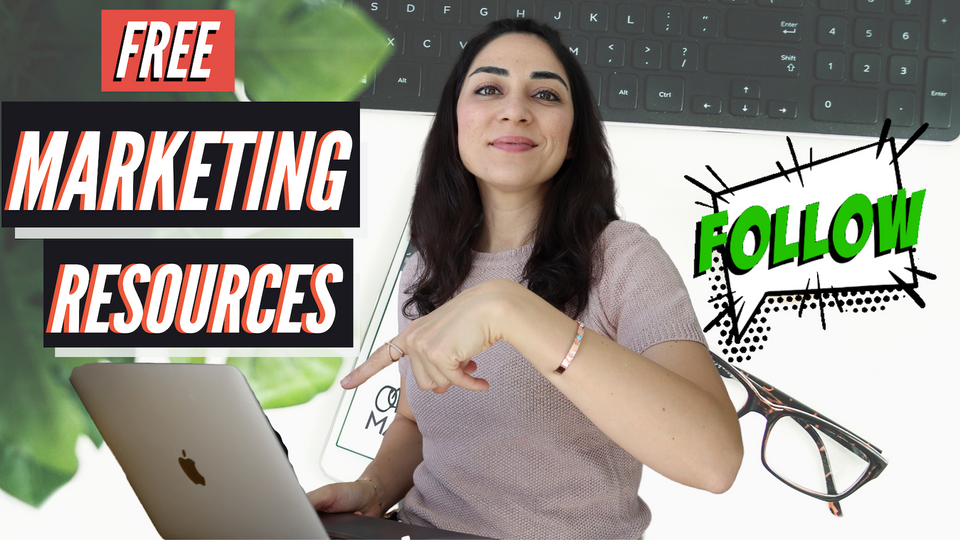 One of the most commonly asked questions over on my YouTube channel surrounds marketing resources. There's an ocean of content on marketing and it's hard to pinpoint what is good quality content and how not to go stir crazy trying to catch up with everything. There are many free online marketing resources which allows users to gain new knowledge, develop their skill set and stay up to date with the everchanging marketing industry.
Whether you are a seasoned marketing professional or a recent graduate, I'm convinced the resources and suggested accounts will be helpful for you.  I will share a range of my go-to accounts, podcasts, websites and names of thought leaders all of which allow me to refresh my knowledge on a daily basis and inspire me when I need it. If you have time, make sure to check out THIS VIDEO where I go into each recommendation in a little more detail.
[Free] Marketing Resources You Need to Follow by Category

Blogs
The HubSpot Blog is what I like to refer to as the marketing bible. I refer to this resource for so many different areas of marketing. The blog topics are extremely varied and comprehensive, filled with quality and useful information. The language is easy to read and digest. Studying the HubSpot blog is a good marketing practice in itself! Next time you check it out, pay close attention to the way the blogs are structured, the way the website is laid out, how CTAs are placed on the page, the terminology they use and the colors they incorporate onto the pages.
If you dedicate some time to not only reading the content of the blogs, but also paying attention to the way they are written and structured, you will observe the best practices and get ideas on how you can apply their content strategy to your own brand. Takeaway: study as you read!
Moz Learning Resources is another great resource, particularly if you are interested in SEO information and solutions. Moz was founded by Rand Fishkin, who's name is nowadays almost synonymous with SEO. Rand is a thought leader and a resource in himself, which leads me onto my next recommendation…
Thought Leaders
Rand Fishkin shares insightful tweets about SEO and the marketing industry in general. His account is a great free resource if you are interested in this area of marketing. Rand's language is humorous and insightful, making it easy to digest and enjoyable to read as you scroll through Twitter.
Ryan Bonnici is an influential marketing CMO who shares insightful information across all of his social media accounts. If you are seeking thought-provoking content then I would definitely recommend following his accounts on both LinkedIn and Twitter.
Ali Mese writes detailed articles on Medium centering around content marketing and growth. His writing shares an interesting perspective on how, in his words, companies can grow from zero to hero. He shares examples of his customer's journeys and how he applies an innovative approach to their content strategy. His case studies provoke you to think differently about marketing and although his articles are quite long, I think it is worthwhile reading.

Databox is a company which provides software and solutions in regard to data visualization, analytics and storytelling. Their Twitter account shares some great content and insightful tips on how to consolidate data and draw insights from it. If you would like to become a data driven marketer, this is one for you.
Podcasts
One of my favorite podcasts to listen to is The Science of Social Media, created by an amazing company called Buffer. Buffer provides software tools for social media automation and management.

Their podcast delves deep into related topics in 15-minute, bite-sized episodes. The conversation is smart and insightful, and I always learn something new about social media.

I would recommend this to anyone who is interested in keeping up to date with social media trends and tactics, and those who are looking to create content and manage their presence on different social media platforms.
YouTube
Eric Siu's channel Leveling Up shares practical business and personal growth advice, from interview techniques to digital marketing strategies. His videos are informative, easy to digest and provide you with takeaway tips on how to apply his knowledge to your own situation or business.
Neil Patel is a New York Times best-selling author and is well known for his influential marketing knowledge. His YouTube channel shares short yet informative content on all things marketing.
Together Eric and Neil have created a podcast called Marketing School, another great source of information and knowledge if you are an aspiring marketeer.

With technology providing us with access to so many online resources, our options for learning are endless. My list of go-to accounts is always growing and changing. I love finding new people to follow and adding them to my bank of resources.
---
‌3 Ways I Can Help You When You're Ready
1. Be a better marketer with the resources I created, including a kickass course to help you land your dream marketing job, templates and lists of resources to accelerate your learning.
2. Work 1:1 with me to define your career roadmap and get support for your marketing job application process.
3. Get in touch to join Superside, Integromat, Whatagraph and many others to promote your brand or business through partnered content on YouTube and other social media platforms to an audience of self-learner marketers!