8 Essential (Hard) Skills For Marketers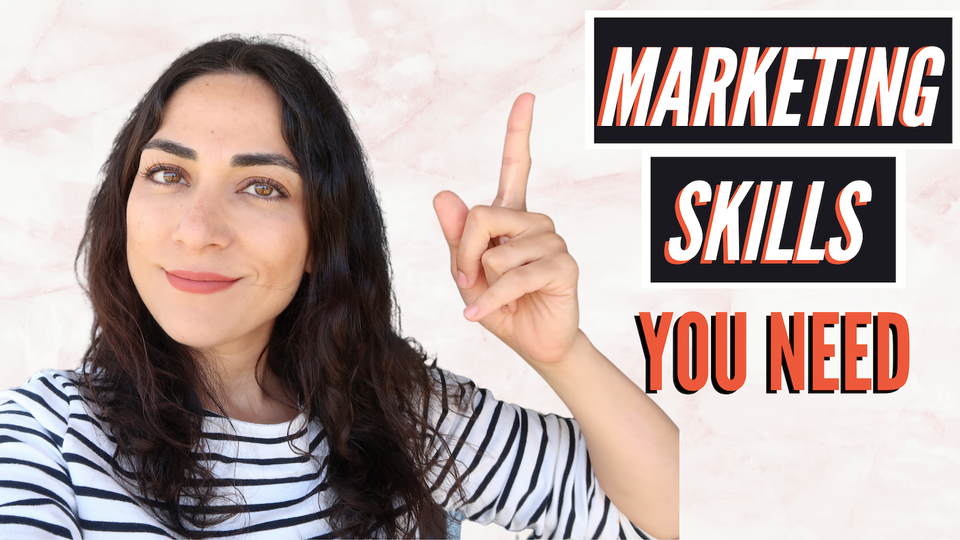 What makes a professional marketer distinguishable from his/her peers? What marketing skills are required to keep a steady pace in the competitive marketing world? What specific skills help marketers to successfully strategize and execute marketing campaigns?
These are the questions that arise in the mind of every person who is about to take the first plunge into their marketing career.
The skills that are the heart and soul of the marketing profession can be categorized into two types: soft skills and hard skills. Soft skills such as compassion, communication, integrity and leadership are what make a marketer resilient and holistic. However in this post, I am primarily going to focus on hard skills that are more technical and teachable. These skills are acquired through certifications, experience and trainings.
https://www.youtube.com/watch?v=1OcdWFkfIGE&t=15s
Here are 8 essential hard skills a successful marketer needs
Copywriting
Number one skill that is highly important and timeless is copywriting. The art of writing a compelling and valuable text that helps a reader to find the solution of a problem and take action.
A major asset to have is understanding what good marketing copy is. Whatever your role is within the marketing team, I can assure you that there will be cases when:
You have a blog post in front of you
You need to create a social media post
You have a task to revise a web copy.
Knowing the basics of copywriting is going to help you significantly.
Characteristics of a brilliant copy include:
Well structured
Purposeful
Authentic
Easy to read
Tailor magnetic Call-to-Actions
SEO
Search Engine Optimization. SEO is a collection of processes that are taken to increase the quantity and quality of website traffic through organic search results. 3.5 billion searches are being performed on Google every single day – WOW. People are always searching on search engines either to find an answer or to find information about a product.
Regardless of your role in marketing, you would need to understand the anatomy of a good blog post, web copy, landing page, emails, social media posts. And what goes into the backend and how every content asset should be thought through to optimize for the search engines. Rand Fishkin summarizes all these concepts into one theory which Moz proudly describes as "Mozlow's hierarchy of SEO needs". He says that the foundation of good SEO begins with ensuring the crawl accessibility and moves up to snippet/schema markup.
Here are the seven steps of a successful SEO according to Rand Fishkin:
Crawl accessibility so engines can read your website.
Compelling content that answers the searcher's query
Keyword optimized to attract searchers and engines
Great user experience including a fast load speed,ease of use, and compelling UI on any device
Share-worthy content that earns links,citations,and amplifications
Title, URL, & description to draw high CTR in the rankings
Snippet/schema markup to stand out in SERPs
Think of it this way: if you are a marketing manager of an organisation, it's likely that you're not the person who is directly focused on SEO. Nevertheless, you will give feedback to your team and make sure you actually know that everything is on track and performing effectively.
So it doesn't matter if you're not specifically focused on SEO – you still need to know and understand the following topics to a certain extent:
What is SEO?
How does SEO work?
How does an ideal web copy is structured?
How does a search engine work?
And why is SEO important to any marketing asset that you create?
Spreadsheets
If you are in the marketing field, there is a high chance that you are going to work on spreadsheets. Most of the documents such as editorial calendar template, social media calendar, SEO audit or an analytics dashboards are created in spreadsheets. Spreadsheets are helpful to arrange complex business and accounting data in a logical format by applying formulas. They're a great way to organize and report your data, thoughts and plans. The two most common spreadsheet software you might already be familiar with are Microsoft Excel and Google Sheets.
I know that some people get goosebumps even at the thought of spreadsheets. 🙂
I'm not saying you have to be a guru of spreadsheets but I'm saying that every marketer needs to at least know the basics and be able to find their way around in spreadsheets.
How does a spreadsheet function?
What are the basic formulas and functions of spreadsheets?
How to edit and use the basic formulas?
How to organize and display data in a logical format
Even if you are not working on data analytics, you will still need to look at your data results, track your performance and report on your marketing activity. If you can simplify the process and use ready-made templates that is a great option. It just eliminates back end work for you in terms of designing a spreadsheet, entering the formulas or making sure they actually function.
At this point, I would like to mention The Ultimate Marketing Template Kit that I created because it really solves the problem of creating spreadsheets and templates from scratch.
It consists of five most essential templates that all marketers need to use at one point in their marketing career. They're designed with the goal to let you focus on better marketing and business growth from day 1.
Here's what it includes:
A Content Audit Template
Marketing Campaign Planning Template
Editorial Campaign Planning Template
A UTM (Urchin Tracking Module) Builder Template
Marketing Analytics Dashboard
They are all very well thought through and have been designed and optimized after years of working experience with different clients ranging from small scale to Fortune 500 scale.
Email Marketing
Email has been a crucial channel for businesses to communicate their messages and directly talk to their potential clients. So understanding how email marketing works and how email drips should be designed is very important for any marketer to know. If you want to learn how to write an effective outreach email from scratch, this video might be helpful.
What is email marketing?
Email marketing is a behavioural marketing strategy that is designed to give potential customers a wonderful learning experience throughout their buyer's journey. This strategy is also helpful to promote, upsell and cross sell the products by using creative personalized content.
Importance of Email Marketing:
Despite the increase in the use of social media, email marketing has still not lost its relevance.
One survey found that email marketing has a conversion rate of 2.3%, compared to 1% of social media.
A study by Hubspot has shown that message personalization is the number one tactic used by email marketers to improve their performance. Messages in emails are personalized using inbound marketing tactics that lay stress to attract customers by creating helpful content. Email personalization can also be increased by using email signatures. An email signature gives a professional look to your emails. It helps to increase the quantity and quality of website and social media accounts traffic by increasing the brand awareness.This video provides step by step guide on how to create an email signature.
Statista has conducted a research which shows that the number of global users is set to grow to 4.48 billion users by 2024.
Analytical Approach
Analytical marketing is the evaluation of data derived from marketing campaigns through different channels such as email or social media. It is very important for marketers to have an analytical perspective in their work. Being data oriented may sound like a soft skill but it is not. It is a hard skill that requires gathering of data that can be later used for decision making. Some data analytic tools for digital marketing are:
Google Analytics
CrazyEgg
Convertable
Quintly
Kissmetrics
Facebook Insights
Instagram Insights
Twitter Analytics
Pinterest Analytics
LinkedIn Analytics
Youtube Analytics
Companies also track their performance by using different social listening tools such as Hubspot, Hootsuite, Buffer and Mention. Social listening helps companies to analyse what their target audience is talking about them on social media sites. So it's very important for marketers to know the anatomy of basic analytical steps which are:
Acquiring data
Applying domain knowledge
Performing mathematical functions on the data
Using statistics where appropriate
Reporting results in an easy-to understand format
Understanding CMS (Content Management System)
A content management system is a user-friendly software that is used to create a website and manage its digital content without the need of writing any code. It has two major components: Content Management Application (CMA) and Content Delivery Application (CDA).
A knowledge of different CMS platforms for example WordPress, Shopify, Wix and Hubspot is very important for any marketer. You do not have to be an expert in using all these platforms but a basic knowledge about the CMS will help you to adjust easier to working with a business or client that has that system. A CMS provides a platform to build different types of websites such as blogs, forums, ecommerce stores and portfolios.
Here are the 5 initial steps to build a website with any CMS of your choice:
Purchase web hosting and domain name
Install the CMS
Configure the CMS by installing a plugin
Start creating content
Manage multimedia elements (Text, Image, Audio, Video, Animation)
Martech Stack
Martech is a collection of software and tech tools marketers use to conduct, organize and improve their marketing activities. A knowledge of the available marketing technology is essential for any marketer.
Marketing professionals learn to select and optimize a Martech Stack throughout their career. Gartner's CMO Spend Survey 2019-2020 has shown that marketing leaders spend 26% of their marketing budgets on martech. According to Scott Brinker's famous Martech 5000 slide, 5000 companies were competing for global marketing technology space in 2017. The slide was updated in 2019 after the addition of 2000 more companies.
It is important for marketers to know how to build a Martech Stack that they can use to nurture their leads into customers and then convert those customers into their loyal trusted fans.
Social Media Management
Since 2004, the use of social media has increased continuously and now almost 90% of brands use social media to conduct business and to provide customer support. In fact, 90% of people surveyed by Sprout Social use social media to communicate with their brands either to purchase something or for customer support.
A study from Emarsys shows, in 2019 3.5 billion humans worldwide which equates to about 45% of the current population are using social media. Statista says this number is projected to increase upto 3.43 billion in 2023. It is important for marketers to know how to drive successful social media communication. They must know how to include social media into their marketing strategy and at least have a high level understanding of trends, user behavior and audience demographics on different platforms.
READ OTHER MARKETING POSTS HERE
Let me know if you find this post helpful.
Let's get connected on social media ⬇️
Check out my Youtube Channel for more marketing, career and remote working related content.