BEST Advice for New Marketing Graduates: What I Would Do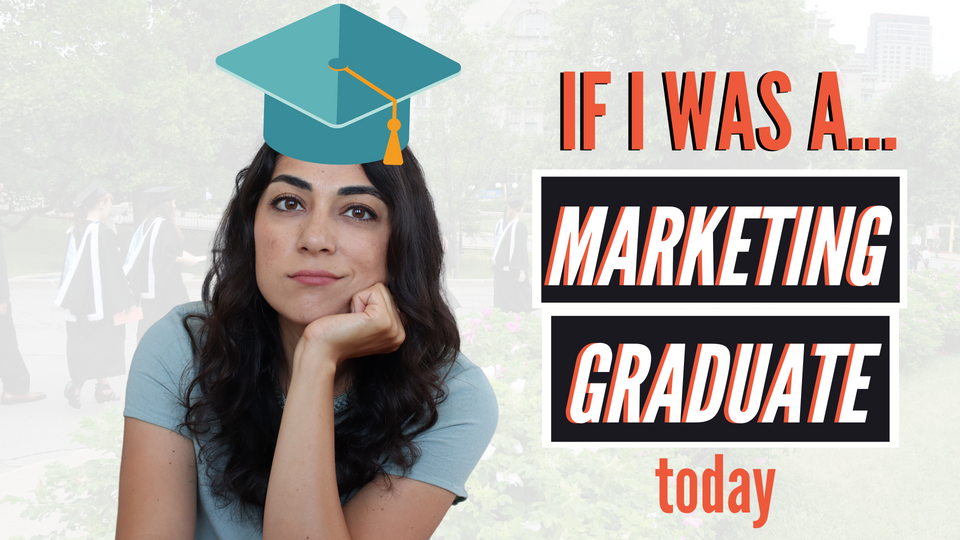 Congratulations! You're officially about to graduate! Or… you're officially done!
You've spent years dreaming and working towards this day and now, you can finally say YOU DID IT!
Now what?
First, I want you to take a moment, and give yourself a pat on the back for getting this far.
Regardless of how your time in school went, you should be so proud of what you've accomplished so far, and who you have become in the process.
Embrace all the highs, the lows, the little victories and the big wins.
There we go!
Next, I want you to take a deep breath in, and out (Ahhh).
Doesn't that feel better?
I get it, you just graduated and now you're feeling a little confused, panicked, and maybe unsure of which path to take.
But you're not alone. I have been there.
Many people are and have been where you are right now, and I know you will get through it.
In this blog, I'm going to share with you tips and advice I'd give to my younger self, or to someone who just graduated and was considering a career in marketing.
But before I really get into… PAUSE.
Ask yourself:
Is there anything I want to do for myself right now before starting my career?
Are there any risks that I want to take after my graduation?
If you've been in school for a while, it's likely that you've been living in a box and navigating on auto-pilot for a long time without even knowing.
Maybe up to now, almost everything has been laid out for you.
But, before you go on to climbing the typical ladder of life, take a long pause and ask yourself what are the risks that you want to take right now?
Do you want to:
Volunteer for a bit?
Travel somewhere?
Explore different career paths?
Rest and reset?
Spend more time alone learning about yourself?
If your answer to any of the above is YES, then GO DO IT!
Go take that risk! And do it guilt free because right now is the best time to explore your options.
Then, come back to this blog if you're still interested in pursuing a career in marketing.
But… if your answer is NO, and you're READY to move on to your professional life, then let's do this!
As always, if you'd prefer to watch or listen to me, feel free to hit play and pause as needed ⬇️
What To Do As A New Marketing Graduate – Here Is What I Would Do
1. There's a huge difference between what you learn in school, and the skills you need for an entry-level digital marketing position.
I cover how to bridge the gap between what you might already know from pursuing higher education and what you need for a job in marketing in the latter part of this blog, but I wanted to emphasize this point.
If you went to school for a degree in marketing, you'll quickly realize when you start looking for entry-level marketing jobs that the skills and the experiences you've gained from your degree, aren't necessarily what employers are looking for.
While theory is great, employers want to see that you have practical digital marketing skills.
But are skills alone enough?
If you asked me, I'd say no.
If you want to be a strong digital marketer in today's world, skills are important but adopting a growth mindset and passion for self-learning are just as important.
The digital marketing world is advancing faster than ever before, thanks to technology, and if you're not willing to keep up with these changes, and be on-top of what's happening in the industry, then you're going to have a hard time setting yourself up for success.
What is a growth mindset?
A growth mindset is the belief that you can improve on your abilities with practice and persistence.
It is contrasted to having a fixed mindset, which is the belief that a person's abilities are unchangeable.
You can read more about growth mindset here.
2. Work on adopting a growth-mindset and engage in self-reflection
Pssst… Don't skip this step.
A lot of people underestimate the value of being alone, and reflecting.
But in order to build a life that you want and grow, you need to ask yourself some important questions and, in as much detail, write them out and reflect on them.
Take a paper and pen right now, and reflect on these questions :
What are you good at?
What do you see yourself doing?
What are you okay with doing? (What makes you happy? What makes you unhappy? )
Where do you want to be in life and where do you see yourself (Think broadly – city, house, lifestyle, relationships, position, finances)?
What kind of experience do you want? (What type of manager do you want? Work culture? What does your ideal team look like?)
Do you have big goals or dreams that seem very far/unrealistic? (If so, keep thinking about them, and talking about them. Write them down)
What are your strengths and weaknesses? (try to get to really know yourself)
What areas are you really good at?
What areas are you not so strong in but want to get better at?
Narrow down your top 3 strengths (how can you polish these strengths up and leverage them?)
With all of this new information and work you're doing on yourself, can you develop this into a personal brand and online presence?
If you were a brand how would this look like?
What adjectives would you use to describe yourself if you were a brand?
Did you do it? Great! because the next part is related.
Plus, doing this exercise will really help you in the long term.
You might not think so now but, believe me.
3. Establish your online presence
Now that you've done some reflection and given some thought on how your personal brand will look, it's time to get out there and try to make it visible.
Alright. What's one of the first things you do when you meet a person and you want to know more about them?
You Google them (Or talk to them I guess…but that's no fun).
If you want to make an impression on your future employer or networks (who will probably google you), you need to take your skills, experience, goals, expertise and make those things visible online.
How?
Easy, think about something you want to share with the world and pick an appropriate platform to share it on (Linkedin, Social Media, Website, etc.).
Choose a topic you want to show expertise in; share something you're passionate about.
Are you good at engaging with brands and other people online?
Whatever you end up picking, remember, just go with it, and don't be afraid to put yourself out there.
4. Marketing is all about being a linchpin
What's a linchpin you may ask?
A linchpin is a person or thing that's vital to an enterprise or organization.
In order to become a linchpin, you're going to have to:
Know all your edges (see why that self-reflection exercise is important)
Be comfortable with thinking outside of the box, and applying creativity to solve challenges you might encounter along the way.
If this is a weak point for you, here are two resources to help you develop your skills:
5. Familiarize yourself with marketing tech and tools
Have you heard about HubSpot Marketing Hub; Hootsuite; SEMrush; Facebook Pages Manager; ON24; Sprout Social; Adobe Connect; CallRail; or ZohoSocial ?
What do you know about them? In what context?
Having some experience with relevant marketing technology (MarTech) and tools for the specialization or specific roles you want to apply to is important.
Do I need to know all the different marketing tech and tools out there?
Absolutely not.
Just like in any other profession, marketers use many tools.
It's not realistic for you to know and have used all the marketing tools out there, but it is very handy if you can get any experience with tools that are specific to your specialization of interest.
The more knowledge and skills you can demonstrate, the higher your chances of getting a job, and the smoother the onboarding process with your company of choice.
How do I get hands-on experience before applying for an entry-level marketing job?
You can get experience using marketing software and tools by creating something of your own , through internships, apprenticeships and even volunteer work.
And remember what I said about establishing an online presence?
Put your work out there.
6. Research different paths, and career routes that you can take
There are many different specializations and career paths within marketing.
And chances are, you won't exactly know what you want right away.
It takes time, knowing your strengths and weaknesses, and trying a few things out.
Here's a question that might help…What are you most drawn to?
Not sure?
That's okay, maybe you need more time to explore different career paths in marketing out there or do a little more self-reflection.
If you do know which specialization you're more drawn to, would you rather work for a B2B or B2C company? At an agency or in-house?
7. Learn about all the greatest sources of information on marketing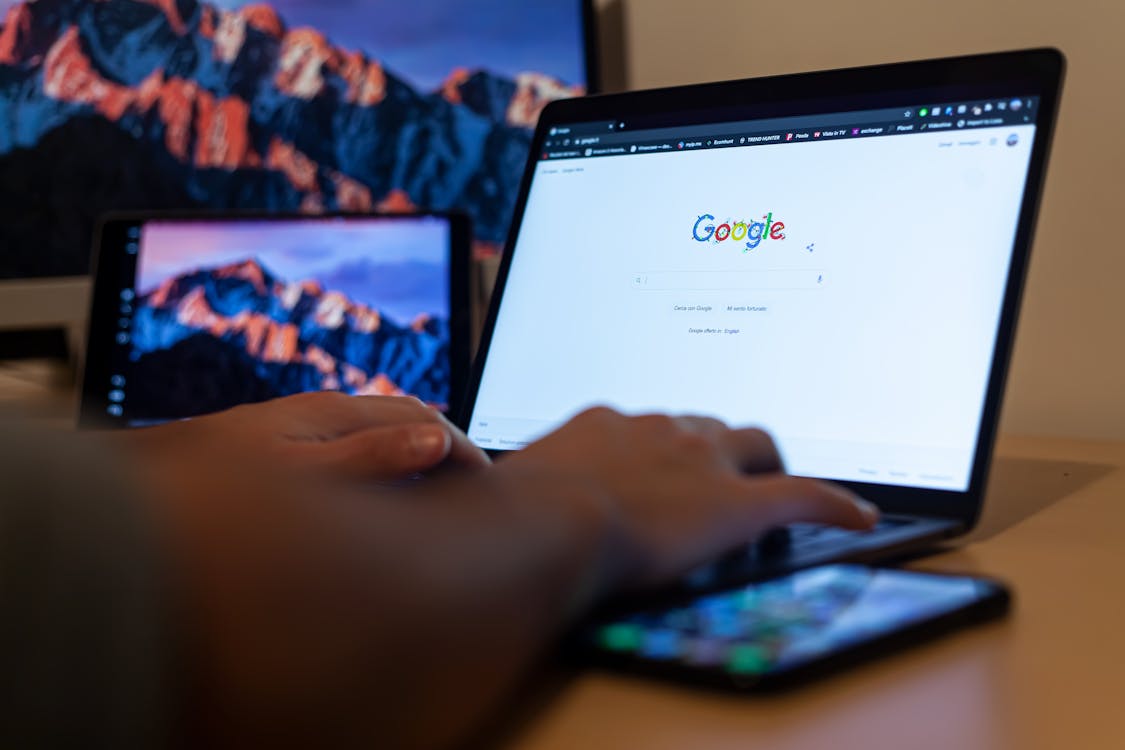 Remember what I said about adopting a growth mindset and staying up to date on marketing related topics?
In order to be better at something, you need to learn from others and put it to action.
To expand your expertise in your specialization of choice, look up some good marketing resources (blogs, podcasts, videos, etc.), bookmark them on your browser and read on them frequently.
Here are a few good ones to start with:
Alternatively, I have an entire video dedicated to free marketing resources to follow.
8. Start meeting people
For most people coming out of college or university, the thought of going to networking events might seem a little strange.
Or, A LOT strange.
But I can't emphasize the importance of networking enough.
Start meeting people.
Go to events, join groups, meetups, interact with people.
Send someone who is currently working in your dream job or dream company a request to connect on LinkedIn.
Tell them why you're interested in connecting, and ask for 15 minutes of their time.
Send that recruiter a direct message.
Put your best foot forward, and be FEARLESS.
The worst thing that can happen is that they never respond to the request, or politely decline meeting you.
9. Create an outstanding resume and cover letter
You NEED to customize your cover letters and resumes.
If you really want to impress recruiters, and stand a chance at getting an interview, you need to invest some time (and perhaps money if you don't have time) to work on your cover letter and resume.
It is normal to not have a long list of experiences on your resume coming out of college or university.
But often, it's not so much about how much experience you have, but how you explain the skills you do have.
Try to focus on your strengths and match the keywords that are used in the job post you're interested in as much as possible.
Also, if you're writing your cover letter and resume, remember to keep them applicant tracking systems (ATS) friendly.
How do you write a winning marketing resume?
If you don't know where to start with your resume, or want to know how to make your resume stand out from the crowd, I've got you.
Watch this video on how to create a winning resume and this for mistakes to avoid.
10. Look at practical, career-prep training
So you've done a lot of theory in school.
But, you don't have a lot of practical skills.
Now what?
Don't worry, there are hundreds of courses out there (free and paid) that you can take to bridge that gap.
If you feel like there's a skill that's up and rising in marketing, or something you're interested in, do it.
I get it, you've invested a lot in your education, and it might make zero sense to you right now to have to invest more time and money into learning a practical skill.
But trust me, go for it (that is, if you can).
It'll make a huge difference in your skillset and increase your odds of landing that job.
11. Get Interview ready: Stay up to date with trends, news, businesses
Want to be a star candidate at your interview?
If you really want to impress your interviewer, you need to be well prepared.
Here's how:
Stay on top of marketing trends and industry news
Conduct research on what the company you're interviewing for does
Identify competitors of the company you're interviewing for
Read up on your interviewer(s) (use LinkedIn, what have they done or accomplished?)
Look at the website of the company you're interviewing for (read their blogs, explore their site)
Have other conversation starters about the field or business ready to go
12. Prepare to work for free or for a low wage
Free work? Minimum wage? Seriously?
Yup, I get it.
You've invested hundreds and thousands of dollars into a program, and the thought of working for free after that huge investment sounds like a total rip-off .
Working for free might seem like a strange thought at first, but consider the return on the investment.
Right now might be the best time to work for free, level up on your skills with a knowledgeable mentor or through self-studying, and get in tip-top shape so you have the skills to get that dream job.
Accept that unpaid internship or traineeship. It might just turn into a paid opportunity or open up doors that you haven't even thought about.
But what if you just can't afford to do that right now?
What if you're not financially free, and you need to pay bills.
I get it, not everyone's in a position to take on unpaid work.
And if that's you, then maybe right now your priority might have to be to get a job that covers the bills.
If possible, use your spare time to work on building your marketing skills.
But whatever you end up deciding to do, remember, be open to working for free for a little bit, and so you can build your skills.
Trust me. Working for free will only be but a phase in your life.
Once you know how to leverage those skills, you'll be succeeding in no time.
13. Work on your side hustle
Establish a passion project, or side hustle, and commit to it.
Start a blog, podcast, youtube channel – whatever it is, find something that you can commit to and take seriously.
Transform it into something that you can talk about.
It doesn't have to be super successful or amass a huge following.
Find something that you can learn a lot from and demonstrate your marketing mastery with .
Let's say you have a blog.
How about leveraging what you know about SEO, content strategy, web design, and creative graphics and incorporating that on your blog posts?
If you learn about SEM, how about trying to run an ad?
Why not use Google Analytics to track changes as you incorporate new skills into your blog posts?
Want to learn more about starting a side hustle?
If you want to learn about how to start a side hustle, this video was made with you in mind.
Now, let me let you in on a little secret real quick.
When I graduated, I had actually been running a blog for over 7 years.
But, I never thought it was something to be proud of or worth talking about.
In fact, I didn't really bring it up much.
But now that I can take a step back and look at it from a different angle, I realize that I actually learned most of my SEO, website, WordPress, Google Analytics and content marketing knowledge from running that blog.
So, if you're holding back on starting your own side hustle or sharing the one you currently have with the world, don't.
Think about the skills involved.
Put it on your resume.
Bring that knowledge to your interviews.
And be proud of it.
Conclusion
You don't have to have a running list of marketing related experience coming out of your degree or have used all the marketing tools out there in order to take your next step and establish a career in marketing.
But before you jump on getting practical skills, or start applying for jobs, it's important that you hit pause and spend some time reflecting on what you really want to do, and where you want to be in the months ahead.
Then, invest in building your skills, start networking, and work on your resume.
And if you think it's too late to start now, it's never too late.
Oh, and if you enjoyed this blog post, and get to the stage where you're preparing for job applications, check out this video.
P.S. If you want to be the first to know of key updates and content, subscribe to my newsletter!
---
‌3 Ways I Can Help You When You're Ready
1. Be a better marketer with the resources I created, including a kickass course to help you land your dream marketing job, templates and lists of resources to accelerate your learning.
2. Work 1:1 with me to define your career roadmap and get support for your marketing job application process.
3. Get in touch to join Superside, Integromat, Whatagraph and many others to promote your brand or business through partnered content on YouTube and other social media platforms to an audience of self-learner marketers!