CAREER PATHS IN MARKETING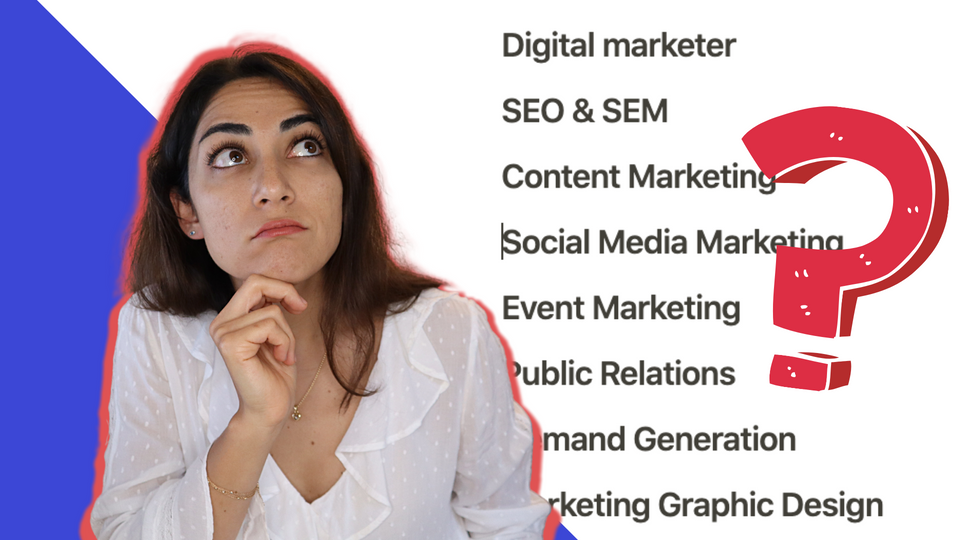 The popularity of marketing as a career option is no surprise since it's an exciting and growing field. But being overwhelmed by the abundance of career paths in marketing is also a very popular concern.
For every time I hear the phrase "I'm interested in marketing", I also hear "but I'm not sure exactly what part of marketing".
Here's a couple more questions I hear every single day.
"I'm about to graduate and want to get into marketing but which field in marketing should I go after?"

"I did an internship in social media to get some experience but I'm not sure if it's right for me."

"What exactly does a [digital marketer/content marketer/public relations] do?'

"What do I need to do to become a product marketer?"
Sound like you too?
If you're confused by all the options or don't even know where to begin – you've landed on the right page.
I launched a new series on my Youtube channel on November 16 because I figured it's time to create an extensive guide on what different roles in marketing look like and to understand the career paths in the marketing landscape.
In the first post, I'm listing out the different career paths in marketing and make a list of career options you can pursue. This is more of a macro look.
In the later videos of this series, I'll do deep dives into specific roles and will share what that particular job title means and what exactly that person does. We'll look at job postings and review the qualities and responsibilities companies look for when hiring for those roles.
If this is something that will help you, don't forget to subscribe to the channel and hit the notification bell to get updated when there's new content on the channel and so you don't miss the upcoming episodes of this series.
If you prefer watching videos over text, start watching below.
What are marketing career options you can pursue?
Let's set the expectations right before anything else. As we move along with descriptions about roles and career paths, I want you to know that nothing we ever mention is going to be 100% right or applicable for every organization and situation. In the job market and for any type of role we'll ever talk about, there will always be some level of flexibility and change with what a certain role is responsible for. It's not uncommon to see people being hired for say, a content marketer role and then end up working on social media, events, email and graphic design too. Or the responsibility of product marketing may be focused on product positioning at one company and then more of a sales enablement type of role at another. So this is just a disclaimer that you need to allow for some flexibility in different contexts.
In any case, we have to start from somewhere and work around a rough outline to understand what each path or role may look like in a more broader sense.
My goal with this series is to help you:
understand the big picture – what are we really talking about when we're thinking of a career in marketing and your options if you wish to move forward in this field
learn how you can prepare for different roles in marketing
prepare yourself for what you'll be expected to do and match your experience with the roles
evaluate which qualities and skillsets you need to work on to work in your desired field
Sound good?
If you're all ready, let's dive in to the most popular marketing career paths.
Digital marketer
I'd say this is more of the generalist role you'd find. You'll likely get to do a piece of everything such as SEO, content creation, campaign management, email marketing, paid ads, social, etc.
You wouldn't really narrow down on any particular aspect and get to specialize in such a path. This kind of role could be useful for a while as you explore which pieces you like the most – then you might want to start specializing.
SEO and SEM
Now if these aren't two of the top marketing keywords you hear, I's say you're kidding me.
SEO stands for search engine optimization and refers to optimizing web content to be found organically on search engines and be found by your audience.
SEM on the other hand stands for search engine marketing, and refers to the paid advertising for more visibility on the search engines.
Let's take Hubspot's words here to better understand what each role does:
The responsibilities of an SEO specialist include improving the ranking of a website on a search engine results page (SERP), conducting keyword research, making technical SEO recommendations and designing the site architecture, and analyzing and applying metrics on website and keyword performance. The responsibilities of an SEM specialist include leveraging search engines like Google and Bing to increase website visits, conversions, and revenue through paid advertisements.
Email Marketing
Forget all the debates on whether email is dead or not. It is quite alive and it is quite a precious channel for businesses. It is a channel where the brands own the audience list and have direct access to their mailboxes, unlike any social media channel. And this makes email quite powerful.
Essentially, an email marketer is the expert of communicating with current and target audiences via email and keeping them engaged and nurtured. A lot of analysis and experimentation is involved in understanding how to optimize this channel to drive more revenue and engagement.
Content Marketing
One of my favorites and one that is so popular. It's all about creating, publishing and distributing relevant and engaging content that aims to target the right audience at the right time. Content marketing is responsible for the strategy to create content that serves the goals of the marketing department such as building brand authority, lead and revenue generation.
Types of content may include website content, blog posts, videos, social media posts, ebooks, whitepapers, webinar content and more. And when it comes to distribution, we're talking about all the digital channels that are utilized to share the content such as website, social media channels, online groups, publications, podcast, etc.
Social Media Marketing
It wouldn't be wrong to say that this is a specialized branch of content marketing. Social media marketing is using social media channels to connect and communicate with the audience to drive website traffic, sales or brand authority. The job would involve actions such as creating content for social media, scheduling posts and managing channels, community management and engagement, running paid ads if that is a part of the strategy, as well as tracking and optimizing performance.
Product Marketing
First of all, check out the video I did with Aubyn Cassady from G2 for a more detailed conversation on product marketing. She explains it so well and if this is your particular interest, you can't miss that video.
This field is an interesting one in the sense that it sits at the intersection of product development, sales, customer success and marketing. Product marketers are focused on understanding the product like the palms of their hands, then positioning and enabling it to meet the right audience. They drive demand for the product, as well as making sure product is understood and meets customer's expectations.
Public Relations
The summary I came up for public relations is 'managing brand reputation in the public eye' across the board. Let me know if you like this definition! They manage the reputation through paid and unpaid communication channels, as well as online and offline mediums – such as in-person engagements. They are also the unit that manages the brands at times of crisis – tough job.
Event Management
I'd imagine this field to look more and more different than what we knew it to be. Events are no longer held in physical spaces but moving everything to virtual. Which means this could also be an opportunity for people who embrace and learn quickly.
Demand Generation
This is a term and role that seems to come up more and more in the recent years. Not that it wasn't done before but it is now a particular focus and companies are hiring for specific team members for this role.
It is essentially about designing and managing marketing strategies that drive interest in the product or service of the company.
Let me insert a suggestion here if you're interested in demand generation – you have to follow Chris Walker on Linkedin and listen to his podcast named State of Demand Gen.
Marketing Graphic Design
This is for all of you creatives who love working with design software and creating visual elements of content that is needed to support the text and audio content. It's essentially the intersection of marketing and graphic design.
Almost all marketing teams need graphic design support to help them create visually beautiful content and ideally this person should understand marketing principles and strategy to work along successfully with the marketing team members.
That's a wrap! As I mentioned earlier, we'll dive deeper into these roles in the upcoming posts in this series and we'll look at the job descriptions, skillsets required and more details to help you understand each role better, as well as helping you prepare yourself for it if it's interesting to you.
P.S. If you want to be the first to know of key updates and content, subscribe to my newsletter here.