How to GET DIGITAL MARKETING EXPERIENCE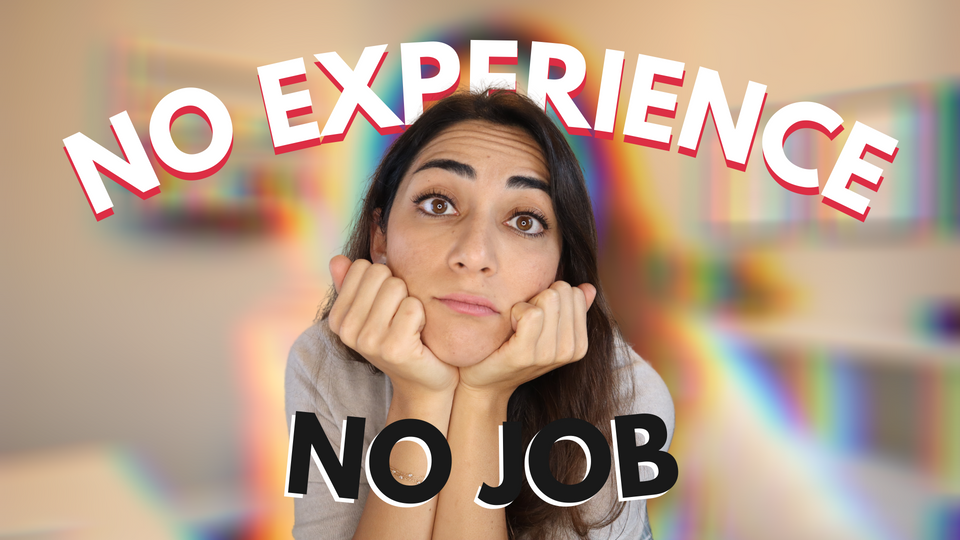 So you want to land that dream job but lack the digital marketing experience companies are asking for.
You might even be wondering… is it possible to get any digital marketing experience without getting a job first?
It's the classic chicken and egg problem and one of the major bottlenecks when you are trying to start your career in any job
You need experience to get a job…but need a job to get experience.
In a previous post, we've covered 8 ESSENTIAL Skills Digital Marketers Need to Have for a successful marketing career, and Free Marketing Resources To Follow if you're a current or aspiring marketer.
But skills and resources aside, how do you actually get experience in digital marketing without a job?
In a world where you need prior work experience even for entry level jobs, it's easy to feel stuck and desperate.
But, what if I told you that YOU could gain the experience, skills, and connections you needed to jumpstart your digital marketing career – without any prior experience in the field – RIGHT NOW?
In this post, I'm going to discuss how you – yes YOU! Can kickstart your career in digital marketing with Acadium, and leverage that experience into finding your next dream job.
As always, if you'd prefer to watch or listen to me, feel free to hit play and pause as needed ⬇️
How to GET DIGITAL MARKETING EXPERIENCE – And kickstart your career in digital marketing w/ @Acadium
1. What is Acadium?
Acadium is a platform that helps aspiring marketers around the globe like yourself find an apprenticeship, gain experience, and the connections you need to kickstart your digital marketing career today.
It doesn't matter where you're located, whether you're a student, recent graduate, or in the process of a career change – Acadium offers anyone, anywhere, with any skill set level the opportunity to gain valuable hands-on experience in digital marketing alongside a skilled mentor – for no cost at all.
Sounds like something you'd want to do?
Click here to sign up with Acadium now! It'll only take a few minutes.
2. How does Acadium Work?
With Acadium, apprentices can create a profile, upload their resumes, and be on their way to exploring hundreds of apprenticeships across 11 categories of digital training within minutes.
Once your profile is set up, you can filter through apprenticeships by location, the languages you speak, your industry of interest, and your mentor's personal interests – you can also start conversations directly with the mentors you are interested in working with which is a pretty neat feature.
If you and your mentor end up deciding to have a more thorough chat about the apprenticeship, you can even use the easy to use built-in feature to schedule a call or video at a day and time that works best for both parties.
3. How long do Apprenticeships last?
As an apprentice, you must commit to 10 hours a week for three-months after accepting a contract, which is equivalent to a total of 120 hours.
But in addition to gaining valuable digital marketing experience which you can leverage to land your dream job as well as 1:1 mentorship with a mentor of your choice, you also get biweekly check-ins with an apprenticeship advisor.
4. What happens at the end of the 3 month Apprenticeship?
At the end of the three months, apprentices are awarded a reference letter and certificate of completion which they can use to build up their resume.
If that's not great, what's even more fantastic is that 55% of the time mentors hire their apprentice full time.
5. What kind of digital marketing experience can I expect to get through Acadium's apprenticeship?
With Acadium you can filter through hundreds of opportunities.
This includes apprenticeships in Search Content Marketing; Social Media; Email Marketing; Website Design; Paid Advertising; Public Relations; Graphic Design; SEO Digital Marketing; Shopify Development; Marketing Analytics; Copywriting; Video Editing; and Marketing Automation.
Overwhelmed by the abundance of choices?
Not sure what career options you want to pursue in digital marketing? That's okay.
Before you start your apprenticeship, make sure to check out my post where I really break down the different options you can take within digital marketing.
6.  What experiences do I need to include on my resume before landing an apprenticeship through Acadium?
One of the wonderful things about Acadium's digital apprenticeships is that you do not need to have any prior experience before starting an apprenticeship.
Through structured 1:1 mentorship, guidance, and optional coursework, you can gain the skills, experiences, and connections you need to jumpstart your career in digital marketing and land you your dream job – no prior experience needed.
7. What courses can I take before starting my Apprenticeship?
Not ready for an apprenticeship just yet?
If you're not ready for an apprenticeship, Acadium also offers free courses on their platform aimed at helping you develop in-demand digital marketing skills which you can do at your leisure.
There are also an abundance of marketing certifications that you can do right now to improve your marketing skills.
Watch my video to learn about some of the Top Marketing Certifications (Free & Paid) that are worth your time and money, and that will elevate your marketing skills and resume.
How else can I leverage my digital marketing experience and land my dream job?
Aside from apprenticeships, certificate programs, and online courses, other beneficial options include joining digital marketing communities, working on your digital presence, and starting a side hustle – like what I did with starting my Youtube channel. These are all fantastic ways to build your skills and gain great hands-on experience in digital marketing.
---
‌3 Ways I Can Help You When You're Ready
1. Be a better marketer with the resources I created, including a kickass course to help you land your dream marketing job, templates and lists of resources to accelerate your learning.
2. Work 1:1 with me to define your career roadmap and get support for your marketing job application process.
3. Join Superside, Integromat, Whatagraph and many others by promoting your brand or business through partnered content on YouTube and other social media platforms to an audience of self-learner marketers. Get in touch!