What Does a CONTENT MARKETING MANAGER Do?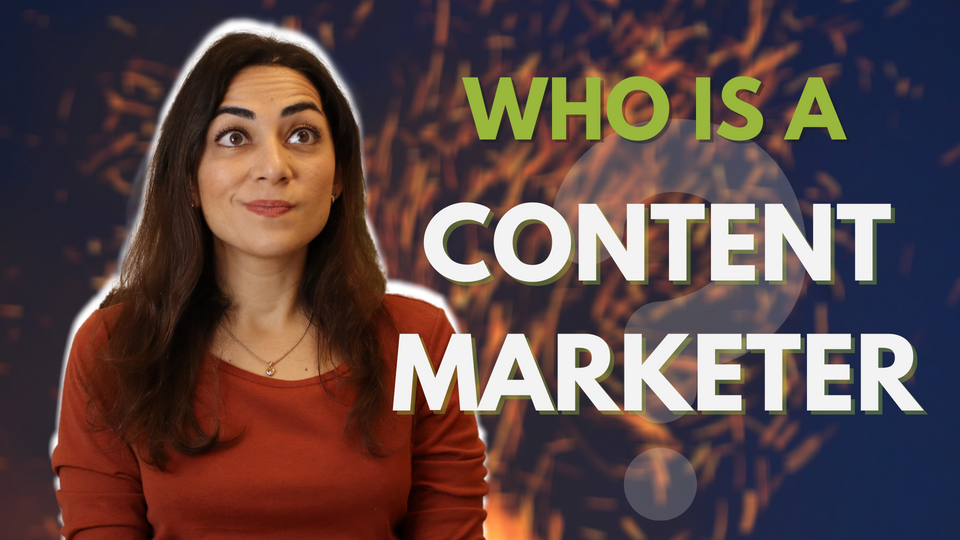 Interested in content marketing? Thinking of hiring a content marketer? Maybe you're wondering what exactly does a content marketing manager do?
Whether you're curious about content marketing, the key responsibilities of a content marketing manager, or skills you need to have to ace that next job application or interview, you're in the right place.
If you haven't seen my previous post where I provided a brief breakdown of some of the most popular roles that you can pursue within marketing – including content marketing – feel free to take a quick minute to check it out before reading on.
In this post, we'll be going deeper into the most frequently listed responsibilities of a content marketing manager and skills you need to have to be an in-demand content marketer.
So what does a content marketing manager do?
Like with any marketing job, the responsibilities assigned to a content marketer can obviously change depending on the company and the requirements of that company.
But after spending some time looking at hundreds of current job postings across a handful of job posting sites, and bringing in my own experience of working as a content marketer in the early years of my career, I've put together a solid list of things that companies are generally looking for when hiring for content marketing manager roles.
Without further ado, let's get started with the 19 key responsibilities and skills of a content marketing manager.
As always, if you'd prefer to watch or listen to me, feel free to hit play and pause as needed ⬇️
What does a content marketing manager do?
Develop a communication strategy, and manage the content distribution with a thorough understanding of the buyer's journey in mind
What are the businesses goals and objectives? What strategies are you going to use to meet these goals?
How will you distribute your content effectively across different platforms?
As a content marketing manager, you not only need to be able to develop a communication strategy, but also manage the distribution of content with a thorough understanding of the buyer's journey – from awareness to consideration, and finally decision – in mind.
Understand and meet the needs of the target audience with content
Who is your target audience? What are their needs? How can you meet your target audience's needs with content created for all the different stages of the buyer's journey? Knowing the answer to these questions can help come up with a clear targeted outreach and provide your audience with content that solves their problem or accomplishes a task.
Create and maintain an editorial calendar and regular content campaigns
Knowing how to use an editorial calendar is a key skill to have as a content marketer, as it helps you plan and visualize your workflow from beginning to end and make necessary changes to optimize your marketing activities.
If you want to know more about what an editorial calendar is and how to use one, take a look at my video where I share step-by-step how to use an editorial calendar with the editorial calendar template I personally created.
Want to save time creating your own editorial calendar? Grab it here.
Alternatively, get my essential marketing kit that features 5 ready-to-use marketing templates –  to help you plan, execute, and optimize your marketing activities.
Have knowledge of Search Engine Optimization (SEO) content, format, and channels
How do you get your content to rank on different search engines? How do you integrate SEO across different marketing channels?
As a content marketer you need to understand how SEO works, different SEO formats, and how to consistently apply SEO across all media platforms you work with.
Create or manage a team of content creators
In some cases, you will be the only person in the marketing team.
This means you'll be responsible for everything from content creation, to publishing blog posts, to running paid ads, doing email marketing, social media, and everything that you can think of under the umbrella of marketing.
In other cases, the team structure and size might be totally different, and you'll be the person managing the team of writers instead of writing the content yourself.
If that's the case, there may be a piece of management and leadership in your role as a content manager.
Create, edit, and oversee content creation for website blogs, social media channels, as well as third party outlets where you might want to get featured
As a content marketer, you may have to create, edit, and oversee different forms of content creation across different channels and platforms of choice.
Update and optimize content on a regular basis
Creating and publishing the content you make might be one aspect of being a content marketer, but staying on top of what you have in your content library so that you can actually repurpose it, optimize and keep updating it is just as important .
Work with brand marketing to design and promote the brand story and voice of the company
"[A brand story] is the message that creates a powerful emotional connection between your company, customers, and the general public" says, Paula Conway, president of Astonish Media Group.
Promoted effectively, your brand story can drive conversion and increase ROI.
As a content marketing manager, you may have to work with brand marketing to come up with a strategy to promote the brand story and voice of the company.
Build a case study program, reach out to customers and write customer stories and testimonials
This one's pretty straight-forward.
As a content marketing manager, you may need to build case study programs, reach out to customers, write customer stories, and testimonials.
Telling the story of how your business helped your clients using their words is much more effective than talking about how good you are.
Own the email marketing channel
This means not only managing the email marketing platform and your automations, but also creating the emails, the performance of the emails, the experiments that you're running overall, and everything that's related to email marketing, and communication.
Collaborate with internal stakeholders
There are various teams you might have to work with and support including, but not limited to product UX designers, web editors, and the sales team.
Act as a bridge between teams
Depending on the size of your company, you may have to effectively communicate what is being done, the marketing achievements, the failures, the goals – everything.
You'll act as the internal communicator and champion for marketing efforts.
Own the digital communications and brand narrative on all mediums and manage the digital presence of the business
This one's pretty straight forward too.
As content marketer manager part of your responsibility could include managing all forms of digital communication and using consistent brand narrative across all mediums to promote your business's digital presence.
Motivate and bring internal stakeholders together to create content
I personally really like this one.
Even though convincing people to create content when they already have very busy agendas can be extremely difficult to do, it is super important and key to an organization's success.
Keep up to date with new additional standards, trends and channels to best represent the brand and grow towards the marketing goals
Staying up to date with changes, new trends, and different channels that will best represent and help your brand help grow towards its personal marketing goals.
Own the brand style guidelines
This includes typography, colors, imagery, the feel and look of a brand.
As content marketing manager, you may have to ensure that all the content you manage, make and distribute meets the standards of the brand style guideline set out for your business.
Analyze and track KPIs performance and pivot strategy to optimize
Key Performance Indicators (KPI) measure how well an organization is achieving its key business goals.
Knowing how to analyze, track, and optimize KPIs to achieve desired business goals, are one of many skills that content marketing managers need to have.
Share the reports and the findings with the rest of the marketing team
In addition to acting as the bridge between different teams, a key responsibility could involve bringing together findings from your marketing analysis and sharing the reports and findings with the rest of your marketing team.
Manage the budget to hire writers and run paid promotions
This includes being the budget owner of anything that is related to content creation and the distribution of content, namely paid marketing..
Depending on the company and the size of your company, the role that a content marketing manager takes on can look slightly different.
Regardless, I hope this post helped provide you with a solid outline that you can take as reference when you are hiring for content marketers, when you're trying to understand what a content marketer does, or when you're trying to prepare yourself for applications for content marketer roles.
P.S. If you want to be the first to know of key updates and content, subscribe to my newsletter here.
Let's get connected on social media:
Check out my Youtube Channel for more marketing, career and remote working related content.