The BEST Step-by-Step Guide to Writing Blog Posts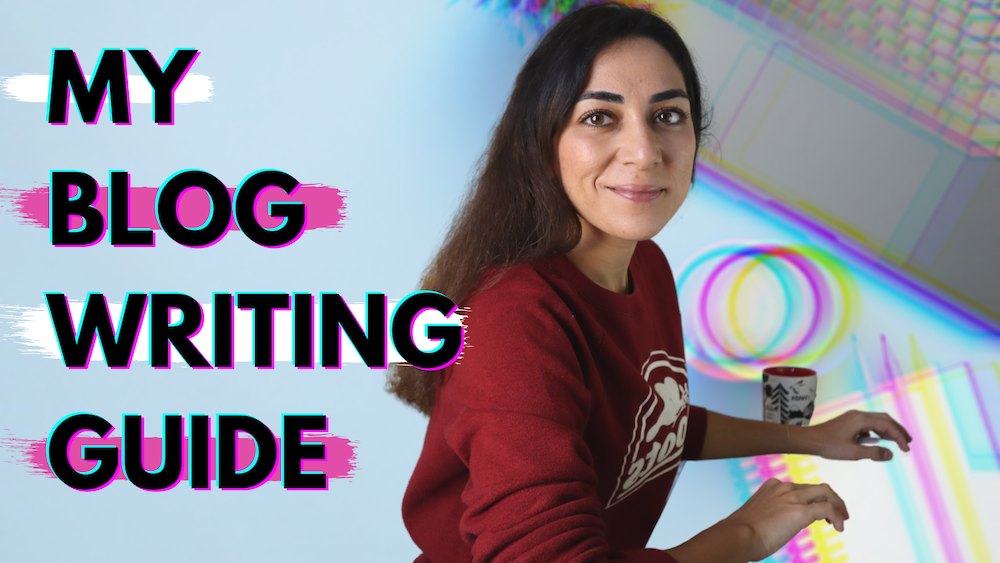 If you're reading this right now, chances are you want to start writing amazing blog posts that engage, inform, educate, and perhaps even convert your audience into paying customers.
Maybe you're already a blog writer.
But now, you want to know how to elevate your writing and write better blog posts that consistently attract the right audience.
Whether you're new to writing or have been writing blog posts for a while, having a solid understanding of buyer intent, keyword research, and a tangible step-by-step framework to work with is CRITICAL to mastering the art of blog writing and converting your leads.
Which is why in this blog post, I'll be sharing my personal strategic step-by-step guide to writing blog posts.
If you'd prefer to listen or watch me go through this guide, feel free to watch the video and pause as needed:
Introduction
I developed my strategic blog writing guide some time in 2016 – and before you look at me and say – "Elif, isn't that ages ago", let me just say that I've since made updates to the hyperlinks and this guide is still very much up-to-date and relevant today.
In fact, it is what I've been using with my clients, teams, and apprentices and what has helped us write strong, engaging blog posts that generate leads and bring traffic consistently up to date.
So let's get into it!
PHASE 1: IDENTIFYING YOUR GOAL
First things first, identify your goals.
Before writing or thinking about getting started on writing, you need to know what your goals are.
Ask yourself: What's your goal with this blog post? Why does this piece exist?
Is it to:
Show readers about your knowledge and trustworthiness in a particular subject?
Dive deeper into your website for information?
Move your visitors further into your sales funnel?
Blog posts should cover one or more of the values above, and knowing which one we're going for should help you outline a blog post.
Want to learn how to write engaging blog posts?
You can get access to my strategic blog post writing template within my Marketing Hub. It offers examples and guiding questions to help you write engaging content and better understand buyer intent – check it out here !
PHASE 2: PLANNING
PART 1: Create your Buyer Personas
Once you've identified your goals, you need to do some planning to get a clear idea of who you're writing for, and how to engage them. There are three parts to this.
The first part of the planning involves getting a deeper understanding of your audience by creating buyer  personas.
Ask yourself: Which audience are you writing this content for? Who exactly do you want reading your content?
Buyer personas are a detailed description of people who represent your target audience and can include things like your target audience's:
Background (job, hobbies, interests)
Demographics (age, gender, income, location)
Identifiers (communication preferences)
Goals and Aspirations (short term and long term)
Challenges
Objections to your service/products
Depending on what your goals are, your audience and buyer persona can look very different.
Having a document with a detailed summary of your buyer persona(s) to refer to is very useful, and it's something I do to ensure that I am consistently creating content that appeals to my target audience.
If you want to learn more about how to create a great buyer persona take a look at Hubspot's guide.
PART 2: Conduct Keyword Research
Once you have your buyer personas ready to go, you will want to conduct keyword research and create a keyword list to refer to.
Ask yourself: WHAT is your audience searching for? What are long tail keywords within your niche?
Here's the formula I use to create my keyword list:
Write down topics (general topic buckets) that you would like to focus on – below is an example:
Digital marketing
Digital marketing career
Learning digital marketing
Marketing career
Digital marketing courses
Working remotely
Fill in topic buckets with more keywords (Think: how is my buyer persona is searching) – below is an example:
How to start a digital marketing career
How to get a job in digital marketing
How to create a cv for a digital marketing job
Research related search terms
Look at the related searches section on Google.
Look at Google's suggestions as you type.
Search for your keywords in Youtube and look at what people are searching for on Youtube using your target keywords
Use tools like Moz Keyword Explorer and Ubersuggest.io to identify related topics.
Check for a mix of head terms and long-tail keywords in each bucket.
See how competitors are ranking for these keywords
Can you provide information on whether we have competitors in our specific niche?
You can also use the Google AdWords Keyword Planner (or HubSpot's Keywords App) to cut down your keyword list.
PART 3: Identify which type of content your buyer personas likes best
The last thing you'll need to do in the planning phase is identify the specific type of content your audience likes best.
Ask yourself:
What are our buyer personas searching for on Google?
What is the intent behind these searches?
Are your buyers looking for Do It Yourself (DIY) Marketing Services OR Do It For Me (DIFM) Marketing Services?
What problems are your buyers trying to solve?
Which type of content makes them stop, click, and consume?
PHASE 3: PREPARATION & WRITING
Now that you've identified your goals, and done some planning around who your audience is, what they need, want, and desire, you're ready to start preparing yourself to write the actual blog!
Ideally, a preparation for a blog post should look like this:
PART 1: Decide on the main keyword
This is crucial to optimize posts for readers & search engines.
The longtail keyword could be 'travel technology marketing' for example and we would be able to identify the search queries, popularity and get an idea of the intent people have by doing a quick research.
Tools: MOZ, Google Trends, Google search (related queries/results), Ubersuggest.io
PART 2: Identify the ideal customer (or persona)
This is the person you are writing the post for.
This is a huge step we should never skip – this tells us WHO will read and benefit from the post.
PART 3: Write the Title & Copy
TITLE
Your title is the most important part of the post as this is the first thing people see on Google when they see your content
Use < 67 characters as Google truncates longer titles
You can use SEOMOFO to check what your title will look like on Google
You can use these guidelines to make the title engaging
You can look at these tips for more headline writing tips
Use common words that rank high like 'top' and 'best'.
You can read this article on common words in high ranking title tags
Make sure to include the keyword in the title (preferably towards the beginning)
Always use the keyword throughout the copy, most importantly in the following areas:
Sprinkled naturally throughout the body copy.
The first header in the blog (ideally placed after or around the second paragraph).
The first and last paragraph of your blog.
META DESCRIPTION
After your title, the second most important thing that people see on Google when your content appears as a search result is your meta description.
Meta description should be 160 – 165 characters.
A Meta description is shown under the title when people Google search for your keyword.
If you're expecting most of your traffic to come from a certain group of visitors, you need to write an appealing title for them that shows the strong points of your article.
Here are some good suggestions on meta descriptions
TACTICS
Here are some tactics to write in an engaging way:
Use questions to attract interest.
Your H2 headings should explain the benefit your reader will get by reading that section.
Use questions to attract interest.
Read bucket brigade section here
Use 'Agree, Promise, Provide' to structure your article.
Start with a statement that your readers agree with, promise them some value and provide them with that value.
I recommend the book Made to Stick to understand principles of engaging content. This is a summary of their guidelines.
LINKS
Use internal and external links whenever possible within copy.
Usie inbound links help to keep the reader longer on the site.
CALL TO ACTION (CTA)
Adapt the CTA of the post, depending on which of 3 goal options your post serves (but don't be too pushy).
STYLING
Use headers (H1, H2 and H3) to structure the article for SEO.
Use bold & italic when needed.
Conclusion
There are many parts that go into writing great blog posts, and it's important to note that while this guide isn't THE ULTIMATE guide to blog writing, it is a solid framework that is meant to provide you with a strategic approach to writing blog posts  (with the buyer's intent in mind).
If you want to write killer blog posts, understanding what your goals are, who you're writing for, some of the basics of SEO, and how to structure a blog post, are just fundamentals to mastering strategic blog writing.
But it doesn't end there.
As with any craft, there's always more to learn, more tools to explore, and more room to grow.
---
3 Ways I Can Help You When You're Ready
1. Be a better marketer with the resources I created, including a kickass course to help you land your dream marketing job, templates and lists of resources to accelerate your learning.
2. Work 1:1 with me to define your career roadmap and get support for your marketing job application process.
3. Get in touch to join Superside, Integromat, Whatagraph and many others to promote your brand or business through partnered content on YouTube and other social media platforms to an audience of self-learner marketers!