Why You NEED A PODCAST [and HOW TO DO IT]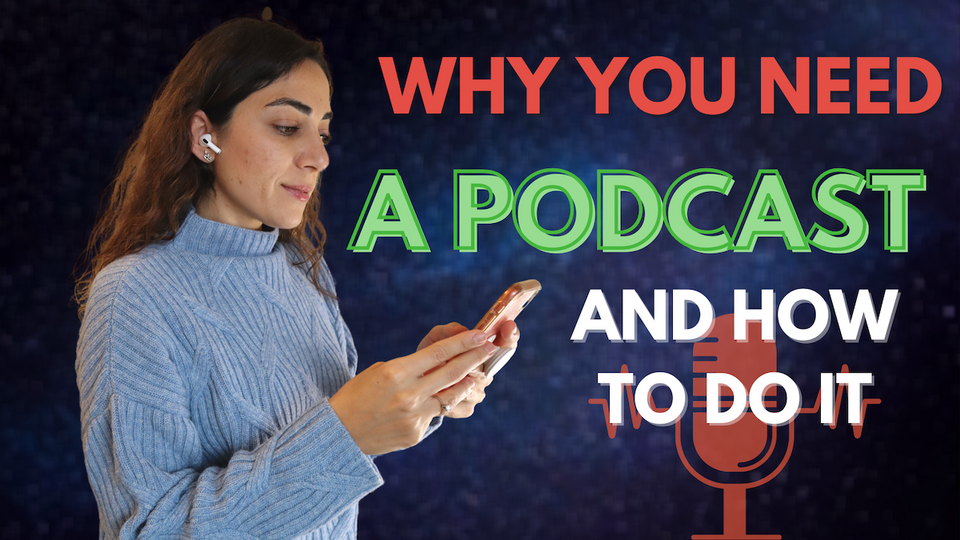 With the number of podcasts growing by the day, you might be wondering, should I start a podcast for my personal brand or business?
Is it really worth starting a podcast?
What is the best platform to start a podcast?
In the last 5 years, podcast listeners have doubled from 50 million to 100 million now in 2020.
In the same time frame, the number of podcast shows nearly tripled from 500,000 to now 1.4 million.
The growth is insane and it's here to stay.
But where do you begin?
In this post I'll be discussing the benefits of adding podcasts to your content marketing strategy, things to consider when starting a podcast, and how you can get started with hosting and growing your personal brand or business with Spreaker.
As always, if you'd prefer to watch or listen to me, feel free to hit play and pause as needed ⬇️
WHY YOU NEED PODCAST in Your Content Strategy & How To Start -Explaining Podcast Hosting w/ Spreaker
Benefits of Starting a Podcast
It's a huge market with a lot of untapped potential
I know I've already mentioned this, but the podcast market is growing and is predicted to grow by another 27.5% every year from 2020 to 2027.
Which, good news for you, means there is an enormous amount of untapped potential in podcast marketing.
It's a great brand marketing channel
Podcasts are a great way to help build authority and trust with your audience, as well as provide valuable educational content.
In fact, some of my favourite people in the marketing space including Chris Walker and Dave Gerhardt who regularly promote podcasts swear by the impact that podcasting has had on helping grow their personal brands and businesses.
It won't break the bank and doesn't require much preparation
Compared to creating videos, starting a podcast can be quite cost effective and require less preparation.
You can start a podcast with your phone, a standard microphone, and other technological gear you already have.
You can even do it in your pyjamas, and not have to worry about things like lighting, or what your environment looks like.
It has longer engagement and content consumption rates
When was the last time you spent 15 minutes on a blog post?
Or watched the full length of a video for 15 minutes?
Probably not recently. Maybe even never.
The average view duration on my videos that range from on average is 4 minutes.
But with podcasts, 80% of people listen to all or most of each podcast episode – now that's spectacular, and something you need to jump on.
It's great for collaborations and networking opportunities
Podcasts are a great way to network, collaborate and reach new audiences.
If you're going to have guests on your podcast episodes, then that in itself is a huge potential to reach out to a whole new group of people and to expand your network (individual or customer base).
It can help build your knowledge and expertise in podcast ads
With the audio industry growing by the minute, knowing how podcast advertising works and how to advertise effectively on podcasts are important skills to have.
It might even be a service you could add to your portfolio and offer your clients on top of knowing how to create great podcast content.
Things to consider before starting a podcast
Once you've planned out your podcast marketing strategy and are committed to executing it, then that's when you'll have to figure out a couple of technical things.
1. Recording
Decide on the technical setup.
Are you going to record through your phone? Are you going to have an external microphone? What type of gear are you going to use to record your audio?
2. Editing
Decide on what kind of service and software you're going to use for editing your podcasts.
When you transfer the audio file into your computer, how are you going to edit the file? Are you going to add music on top of it? Are you going to trim, cut, or insert content?
3. Hosting
Choose a platform to host your podcast.
And when I say hosting, what I mean is choosing the platform where your audio files are going to live.
This will be your media host where you store your podcast files and allow the audience to listen to your content.
4. Distribution
One of the most crucial steps to increase your podcast's steps is to distribute it to different platforms.
Through a good hosting service, you'll be able to auto-submit your podcasts to different directories such as Apple podcasts, Spotify, Google Podcast etc, however not all podcasting services offer this service and if that's the case, you might have to spend some time figuring out how exactly you'll be distributing your podcasts.
Not sure what hosting platform to pick and distribute your content through?
If you really want to save time and not worry about how to distribute your podcast, Speaker offers a great deal and its easy to use Customer Management System (CMS) makes auto-submit your content to different podcast platforms simple and fuss-free.
Not convinced yet?
Read on to find out my top 4 reasons for using Spreaker and how you can get started with hosting, creating, distributing, and monetizing your podcast today.
Why start a podcast with Spreaker and how to get started
With so many hosting platforms to start your podcasts on it can be challenging to decide which one is the right one for you; for me, that's Spreaker and here's why I think you'll love it too.
User experience
Have you ever felt overwhelmed by the thought of having to learn how to navigate through another app? I know I have.
Unlike some apps I've used, Spreaker is clean, clear, and overall very easy to navigate – which makes starting a podcast quick and simple.
Their CMS is brilliant, and lets you look after all the different aspects of your podcast – from managing your account, to promoting your podcasts on social media, monetizing, and distributing your podcast – all from one place.
You can even choose to look at your analytics, and optimize your podcast strategy to better meet your goals all within the same dashboard.
Affordability
Another great thing about Spreaker is its affordability.
Whether you're just starting out or already are an established podcaster, Spreaker has a couple of different plans that meet your needs and budgets.
And if you're not sure about which plan you'd prefer, you could always start off with lower plan and upgrade to a higher one later.
Ready to start growing your brand or business now?
Get 30% off for the next 6 months by clicking right here or entering the coupon code 'elif' at check out.
Flexibility
With Spreaker you're able to have and manage multiple podcasts on a single plan.
Let's say you wanted to have a podcast for your business and another one for your personal use; on Spreaker you would be able to manage both podcasts in the same dashboard, without having to worry about paying for two separate plans.
Analytics
As a marketer the other thing that obviously stood out to me about Spreaker was its analytics section .
From analytics on the number of downloads,demographics, traffic sources, geolocation of your audience and other interesting analytics pulled from different listening apps – including Google podcasts, Apple podcasts, and Spotify– Spreaker provides a clear space where you can visualize and analyze data pertaining to your podcast – which to me is another convenient, and attractive decision point.
Interested in learning more about podcasting?
Spreaker invests a lot into education and creating educational content for its audience.
Check out Spreaker's Online Course – Podcasting from A to Z and Blog on Podcasting as a Publisher.
P.S. If you want to be the first to know of key updates and content, subscribe to my newsletter here.
Let's get connected on social media:
Check out my Youtube Channel for more marketing, career and remote working related content.