Social Media Week Toronto 2019 Takeaways & Social Media Trends 2020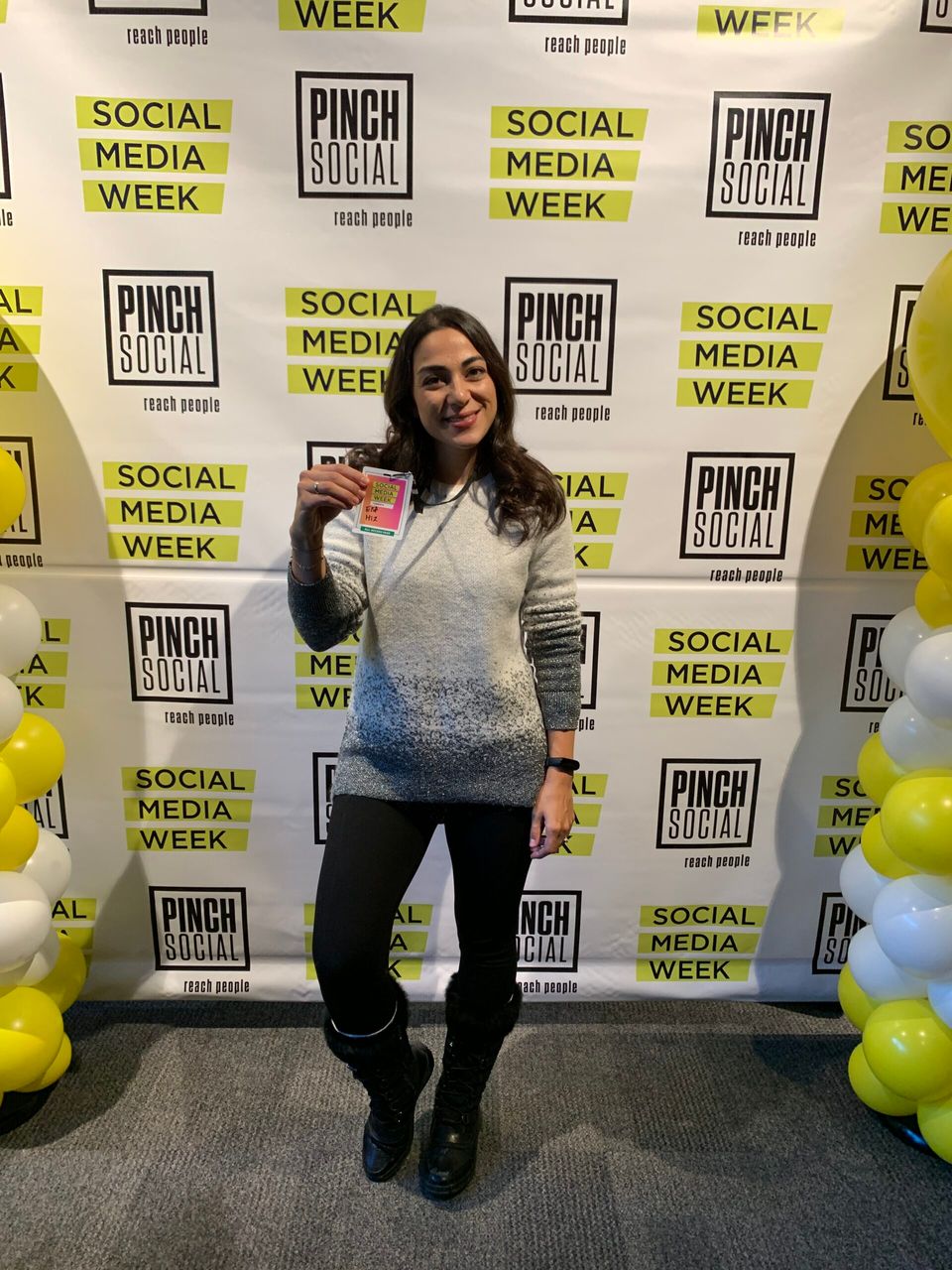 If you're in marketing, you'll know how important it is to always stay up to date with the everchanging trends, algorithm changes, new social media platforms, tools and even, influencers. I had the chance to attend the fourth annual Social Media Week Toronto (#SMWTO) between November 12 to 15, an event that is held in 25+ cities globally. There was so much great information to take home from the event and I loved meeting with thought leaders and colleagues from my industry, and learning about their businesses. At every industry event, I look out for repeating themes and summarize my key takeaways, as these tell me what I need to be looking out for in the upcoming year!
This post will highlight my key takeaways and moments of inspiration from the SMWTO 2019 so that you can prepare yourself and your business to stay ahead of the game for 2020.
6 Key Takeaways from the Social Media Week Toronto 2019
Community first
I can easily say this was the star of all topics at the SMWTO.
The audience in 2020 is expecting brands to put a face to their brand and humanize it.  People don't trust brands anymore – they want to be able to relate to brands and follow because they have a common ground. Something they both believe in or a cause that the brand is working towards.
The focus should be on truly getting to know the audience, educating and motivating them and building a community first. Let your community know that you are a brand that has two-way conversations and is present when they have something to say.
Something I wrote down from Carlos Gill's talk on this point was:
'Spend more time having conversations than posting content. Do a poll. Go to top performing posts and respond to everyone who wrote something. Build a bridge between those people and your brand.'
I really loved this idea and truly believe this could be a game changer. So many brands miss out on the messages people are sharing about them. Whether it's a support message, a need or a complaint, brands should be listening and solving problems, because people want to be heard. They want to follow brands that hear them and respond to them. Then selling should come easy. (Does this bring the 1,000 true fans idea to your mind too?)
2. Influencer fraud – direction towards more genuine, real content
Authenticity is everything. People are sick of too-good-to-be-true posts. They want to see real, down to earth, relatable content. They want advice and recommendations they can trust – not advice that comes out of a high priced brand deal. Vulnerability, errors, failures and bad moments are just as much, if not more appealing.
The Instagram highlight reel and over-filtered, glammed up images are not what people are interested in anymore and influencer fraud is no longer a secret. Steven Bartlett, CEO of the Social Chain shared striking examples of influencer fraud in his talk and I wish I had those slides to share with you too. But here's a short video that his agency created in 2018 to draw attention to this (and offer their solution):
We're seeing brands transition from black boxes to glass boxes.

Our sentiment towards Elon is drastically different than Mark. We almost feel like he is our friend. Whereas Mark is a different case. Steven Bartlett CEO of The Social Chain

Here's more information that I think is relevant to this topic:
Coby Shuman, the Managing Director of the Toronto branch of an agency called We Are Social shared the results of the Think Forward 2020: The Social Trends Brands Need to Know Report they recently launched. The results below clearly show the direction brands and content creators need to head towards, if they want to meet their audience's demands.
Added value – people are placing more value on digital content and creators
Behavioural changes around this:
Calling out brands that don't credit
Boycotting career plagiarists
Paying creators for content
Brands are taking a backseat to give audience a voice
Social self-care – people are re-balancing their digital lives
Seeking out online optimism
Engaging with more wholesome social content
Opting out of unhealthy social habits (ex. sharing screen time)
***Brands promoting mindfulness and self-care
Bad Influence – growing backlash against influencer culture
Mocking influencer behavior
Calling out damaging behavior
Boycotting online social hierarchies
*** Brands subverting influencer tropes
3. Short attention span
This isn't a new topic but is definitely worth mentioning because our attention spans have never been shorter. There has never been this much content and we have never had this little time to pay attention.
Brands are not competing for our money, but our time, which is the most scarce commodity there is. We're able to switch to the next alternative in seconds and the scrolling thumb movement is almost engraved into our DNA – it's insane. Any action brands take needs to account for this.
4. Social listening
This one is partially connected to the 'community first' idea, but there's more. Social listening is a great method to know your audience, hear their pains, demands, needs, responses to other ideas/products/services in the market. Then let them know they are heard and bring exactly what they want.
On her talk about winning strategies for a launch, Michelle Slater (Twitter Canada) mentioned that launch leaders are 2.4X more likely to use social listening to guide their launch strategy. It's essential to make sure you're on the right track and prepare accordingly.
Take a look at the example conversation below that happened between Chance and Wendy's' Twitter accounts. Funny story is, Burger King who did their social listening right jumped at this situation and turned it into an advantage for themselves by adding spicy nuggets to their menu before Wendy's did. And SOLD OUT their stock within 3 months. It's a crazy story.
5. Being a digital savage
I really liked this idea and found this to be a great tip for businesses, but also a great lesson for individuals. The main message is to take advantage of any content you can. Whether it is your competition's tweet, or your target customer.
Let's continue with the Burger King and Wendy's conversation a little more because it came up several times during different keynote speeches (and it's actually quite the case study). The chicken nuggets conversation mentioned above turned into a Twitter battle between BK and Wendy's and BK even found a hilarious way to troll Wendy's, a very successful brand on Twitter.
Take a look at THIS LINK to see the savage BK has become 🙂
6. Private groups, private messaging
This is an interesting one that I've yet to embrace myself but it's not the first time I've come across this point in the past year. Industry thought leaders are quickly switching to text messaging, influencers switching to private groups and exclusive offers to VIP members, etc.
The point is to create more intimate conversations for higher engagement, where you'd be targeting engagement over reach. We're talking about private Facebook groups, Facebook messaging and Whatsapp chat groups. This way you're able to own the data of your audience and build a superfan community.
Tell me, have you seen some of your top influencers switch to text messaging and provide a phone number on their social media posts lately? It's very interesting and I personally feel I am behind on this approach but understand the reason behind this move. What are your thoughts?
Do you like video content more? Here's the video:
Wrapping up…
Are there other trends that you've noticed in 2019 and expect to influence how brands and content creators in 2020? Share them with me in the comments or tag me on social media!
Thank you to Michelle & Pinch Social, all sponsors and partners for making this happen another year.